A look back at 2021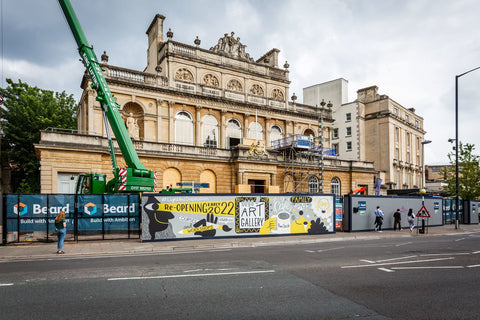 Thank you for supporting us through 2021
The COVID-19 pandemic continues to have an overwhelming economic impact on the cultural sector and it has presented great, unexpected challenges for us. Not least, doing a building project when there are such major issues around supplies.

However, despite the vast challenges this year has presented, we have still managed to inspire thousands - bringing art into people's lives in new and innovative ways. And work on our £4.1m Light and Inspiration capital build continues on!
Whether you've joined a Drawing School class, placed bids during the Secret Postcard Auction or been to see our Permanent Collection exhibition we would like to say thank you. Without your continued interest and support, we simply wouldn't be here.
Here is just some of the work that we produced in 2021, and a look at what's to come this year.
Some of our Community Work in 2021
120 free packs of art activities and materials were given out
Six RWA Pop-up exhibitions were held in community venues across the city, along with artist-led workshops. (Several of the venues are now using the track hanging systems we left with them to hang their own exhibitions)
Six RWA Young Ambassadors have been recruited
RWA Bring-Your-Baby sessions, popular in 2021, are now being programmed for 2022
Bristol Refugee Artists Collective (BRAC) have attended a programme of CPD workshops, discussion and studio time
Bristol Community Links South and North, for adults with learning disabilities and dementia, have taken part in series of print workshops
The Look Imagine Write (literacy project for schools) phase one is complete. This is delivered to five schools, including two new partner schools identified as those with high numbers of students with English as an additional language
Roma Youth Group art workshops are running monthly with a new artist facilitator
Work placements for SGS Art Foundation students and Year 10 Work Experience both ran on Zoom with brilliant outcomes in the form of resources created to use with RWA Handling Collection and an online exhibition
16 new freelance artists were appointed to the Learning and Participation team (including one for whom this was her first job in the UK)
29 artist facilitators worked on the learning and participation programme in 2021 (including Academicians, Artist Network Members and freelance artists)
And much more
Light and Inspiration Highlights
Over the past few months, our biggest building project in over 100 years, Light and Inspiration, has started to take shape. New doorways have been opened up through our facade; beautiful new glazing now sits above our stunning galleries, and every bit of the building is being protected and enhanced to make it more welcoming for everyone.
What our staff are most proud in 2021
"Our Friends - as well as our Academicians and Patrons - have supported us so generously throughout our long months of closure. We're proud to have inspired such loyal support, and hope this will be more than rewarded when we finally reopen" - Alison (RWA Director)
"The resilience and brilliance of our freelance artists, at a time when making a living as an artist is harder than ever, they have delivered fantastic, inspirational workshops engaging families, young people and adults across the city" - Helen (Learning and Participation)
Drawing School
We were pleased to release our Spring term programme last month - starting this January. We have gone great strides in expanding our audiences for these classes in 2022/2021 as we moved onto Zoom for a large chunk of the work. We are happy to have our second term in our new, temporary home at Hamilton House.
Permanent Collection Exhibition
We were delighted to join forces with the Victoria Methodist Church next door to RWA and show over 100 works from our Permanent Collection. We welcomed over 1,500 visitors to the church and showcased the collection online on Smartify.
Secret Postcard Auction
Last year, due to Coronavirus restrictions, we continued to hold our popular Secret Postcard Auction fully online after raising £107k in 2020! The results were once again astounding - we achieved a higher number of bids than ever before, and raised £97k this year! Thank you to all involved.
What's Coming Up This Year
Me, Myself, I: Artists' Self-Portraits exhibition
169 Annual Open Exhibition
Secret Postcard Auction
A programme of Happy Mondays and resources for learners with special educational needs has been planned in partnership with a state funded school for autistic children
After Hours events in our exhibition spaces
Free family fun
And more!
We can't wait to welcome you to our new and improved building later this year. Keep an eye on our website for details of upcoming events.
Photos by Alice Hendy and Lisa Whiting