Volunteers' Week 2017 - Meet Volunteer Lucy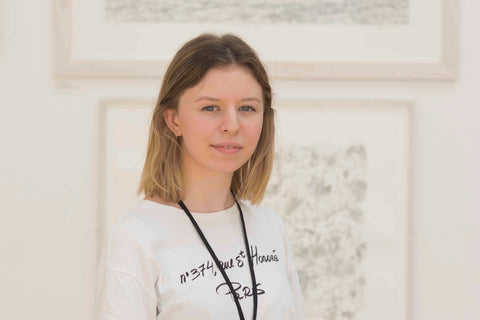 For #VolunteersWeek2017 Volunteer Coordinator Sarah Parkes interviewed seven of the RWA's wonderful volunteers.
Meet Lucy Wigglesworth!
How long have you been a volunteer at the RWA?
I started volunteering at the RWA in October 2016, so around eight months.
What do you enjoy most about volunteering at the RWA?
I love the spontaneous conversations you have with visitors. They never fail to offer unique opinions on artworks, interesting anecdotes or thought-provoking questions. It's such a unique way to interact with the Bristol community.
On top of that, the beautiful exhibition space and the friendliness of the staff members and other volunteers makes volunteering such a pleasure.
What has been your favourite RWA exhibition?
I always think the exhibitions where individuals are invited to contribute are amazing, specifically the Autumn 2016 Open. They provide amazing exposure for artists and are a great way for the public to get to know local artists.
Who is your favourite artist of all time?
I couldn't possibly choose! I love the works of Lawrence Nash and Ellie Ling, both of whom I saw for the first time at the Autumn 2016 Open. I also love how creative Lenka Clayton's works are, I love the serenity of Hannah Modish's photography and I am really inspired by the sculpture of Ron Mueck.
What is your favourite thing to do or place to go in Bristol?
I went to the Ashton Court Estate a few weeks ago with some friends. It feels like a rural bubble above the city. We spent the sunny afternoon breathing fresh air, climbing trees and watching deer graze.
And lastly, what do you do when you are not volunteering at the RWA?
I've just finished my History of Art degree at the University of Bristol. So I've spent the past three years, when I'm not in the library, taking advantage of Bristol's incredible art galleries and museums. As well as absorbing the art that Bristol has to offer, I often travel to London to see new exhibitions and fairs. I even went to London a few months ago to interview Grayson Perry as research for my undergraduate dissertation!
Now that my degree is complete, I think I will spend my time on some very long summer holidays and perhaps a spot of job hunting!
Follow #VolunteersWeek2017 and @RWABristol on Twitter to keep up with the campaign!
Find out more about joining the RWA as a volunteer!
Lucy was photographed by talented volunteer Mike Hale. Mike's Volunteer Project is aiming to explore the variety of volunteering opportunities in Bristol. The longer aim is to also show the diversity of volunteers.