Ten Reasons to Take Part in the RWA Annual Open Exhibition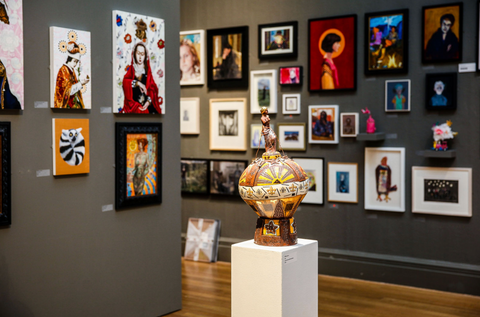 Since the 1850s, the RWA Annual Open Exhibition has brought together the most exciting work by artists from across the country and beyond.
A selection panel assesses every entry and last year 657 works by 451 artists made it into the final exhibition.  But what is it that motivates so many people to take part?
Here are 10 reasons why you should enter the RWA Annual Open Exhibition... 
---
Useful Links
Apply to this year's Open Exhibition (submissions close Tuesday 22 September 2020)
Book to see the Annual Open Exhibition (Saturday 14 November 2020 - Sunday 7 March 2021)
Subscribe to our mailing list for future opportunities | Join the conversation on Twitter #RWA168
---

1. The chance to showcase and sell your art on the RWA website. 
Every year we upload all selected works to rwa.org.uk for the duration of the exhibition.  Being featured our website is a great way to have your art seen by potential buyers - last year over 32,000 people viewed the website during the Annual Open!
2. Prestigious awards and almost £9000 in prize money up for grabs.
This year's prizes are as follows:
The Academy Prize
1st Prize £5000 awarded to any artist working in any medium
2nd Prize £1000 awarded to any artist, with the exception of RWA Academicians, working in any medium, kindly donated by Past Presidents and RWA Academicians
Prize for Artwork by Black, Asian and Minority Ethnic Artists
£1000
The Work on Paper Prize
£800 - Donated by Yvonne Crossley RWA (and The Drawing Gallery)
The Painting Prize
£250 - Sponsored by Derek Balmer PPRWA
Watercolour Prizes
£250 - First prize
£150 - Second prize
People's Choice Award
£500
Evolver Wessex Cover Award
Chosen artwork to be featured on the cover of Evolver magazine
Evolver Wessex Artist Award
Chosen artist to be featured in article in Evolver magazine
The Student Prize, sponsored by The Friends of the RWA
An interview to be featured in Floating Circle magazine, plus publicity 
3. The opportunity to exhibit alongside internationally recognised invited artists.
This year we are excited to welcome invited artists Frank Bowling OBE RA (the first Black artist ever elected to the Royal Academy) and Rebecca Salter PRA (the first woman artist ever to be elected President of the Royal Academy).
4. A chance to present your work to thousands of visitors.
In 2019 almost 18,000 people visited the 167 Annual Open Exhibition.
Due to Covid-19, we now have to limit the number of people visiting our exhibitions at any one time.  To make up for this, we have decided to run the exhibition for 7 weeks longer than normal, so that as many people can safely visit as possible.  In doing this we hope to be able to welcome a similar number of visitors to 2019.  And, as previously mentioned, we will publish all selected artists' works on rwa.org.uk, helping you to reach thousands of potential buyers.
5. The opportunity to exhibit in the UK's only regional Royal Academy.
This is your chance to exhibit in a gallery described by Sir Nicholas Serota (former Tate Director and now Chair of the Arts Council) as "one of the most beautiful in the country".
The RWA Annual Open Exhibition has been running for 168 years and is often featured in the national press.  It has even been selected as "Pick of the Week" in the Times and Guardian newspapers.
6. Work is judged anonymously and on its own merit, meaning everyone has an equal chance of being selected.
Anyone of any age, nationality or background can enter and has an equal chance of being selected.  You don't have to be a 'professional' artist, and work is judged purely on its own merits.  We don't care where you've exhibited previously, or how clever your artist statement is.  No matter who you are, or where you live in the world, you are welcome to enter.
7. We welcome all artistic disciplines.
Every year, we exhibit work from a wide range of styles and media - from the most traditional, skills-based artforms such as painting, drawing and printmaking; to conceptual work, including photography, film and installation.
8. Your work will be seen by a prestigious and influential selection panel.
This year's selection panel includes artist and gallerist Zavier Ellis; writer and curator Anna McNay; and Isabel Seligman, Bridget Riley Art Foundation Curator at the British Museum.
9. Become someone's new favourite artist.
Each year, hundreds of works go to new homes, from first-time art buyers to avid collectors.  In addition to selling 'one-off' pieces, we also allow artists to sell editions.  Not only does this offer them the chance to bring in additional income, but it means their art could end up in multiple homes across the globe!
10. Free admission for selected artists.
The Annual Open Exhibition truly is a feast for the eyes, with over 600 works of art on display. Thanks to the impressive breadth and standard of art, this exhibition has become one of the most hotly anticipated events in the national art calendar.

The good news for selected artists is that you are invited to come and view this popular exhibition as many times as you like, free of charge – whether to enjoy browsing through everyone else's work or just to bask in the glory of seeing your own work there!
Photo by Alice Hendy
The RWA 168 Annual Open Exhibition is sponsored by Smith & Williamson
Related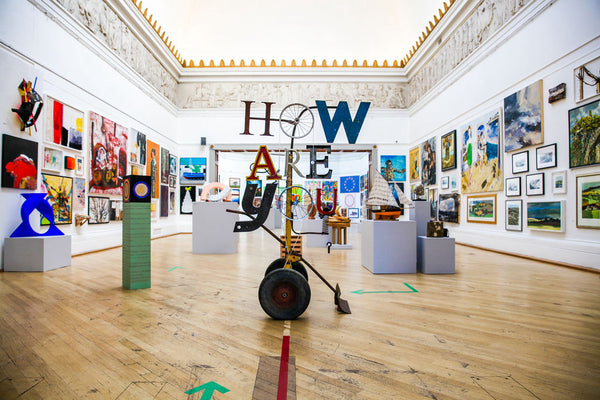 17 April - 9 May 2021
Bristol's Royal Academy presents its 168th Annual Open Exhibition, showcasing some of the most exciting artists from across the country and beyond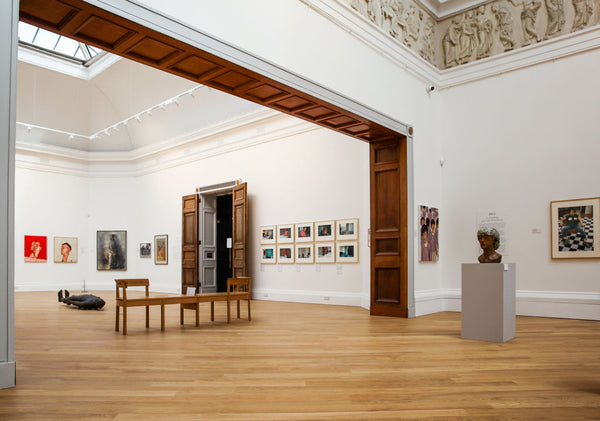 Join us in our transformed building following our Light and Inspiration capital build.