Sound of the Earth Exhibition - Bristol Refugee Artists Collective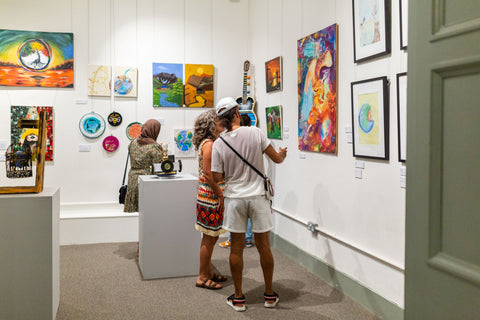 A new exhibition has filled the RWA walls!
 

Sound of the Earth

 

is the product of a year-long collaboration between the RWA and

 

Bristol Refugee Artists Collective

 

(BRAC). Through mixed media, the artworks explore both the shared stories of the artists and their individual life experiences.

The RWA first started working with BRAC a year ago, running workshops including painting, photography, poetry, sculpture, curation, and critique with expert creatives. The exhibition grew organically as a result of these workshops, with participants creating work around the theme of 'Earth', running alongside the Summer Exhibition. Head of Learning and participation Helen Jacobs sum's up the collaboration:
Our sessions were very intentional, with a focus on growing and learning together. I was learning more about how to grow the role of RWA in the community and learning about how to listen well. The BRAC artists were widening their artistic skill-base and increasing in confidence. Together we were all enjoying new experiences and understanding more about communication, culture and creativity.
The exhibition includes sculptures, embroidery, and painting all capturing the artist's personal feelings towards the Earth and the environment. One of the artists shared their experience: 
It is a very good exhibition, I like the concept and am grateful for the opportunity, I am very proud to be a part of it. I have contributed two sculptures and a painting. They are about the Earth, one of them is a guitar, to represent the sounds of the Earth. The idea that when you play it, it is connected to all the galaxies and planets in the universe. The other one is made with a cage and wood and some wire, and it has the Earth inside the cage. This is to represent that the Earth is trapped within too much technology today. The other is a painting about climate change, before the climate change and after. This is because climate change is very important for me because I love nature and the environment.
Collaborative Poem by BRAC Artists 
It's a big place lots of people around it 
You can feel very peaceful, calm and you don't
think about any bad things in the life. 
Wind and rains sound all the day. Some birds around and the trees moving. 
Dirt smell, cooking smell, the scent of roses, the smell of wet earth. 
Touch and walking in the soft land, cold water and soft leaves and 
touch hard stones. 
I love my solitude here with the old fallen apples, 
the tribe of wasps, the old tree. The sun
embraces me again. 
The exhibition runs alongside Earth: Digging Deep in British Art 1781-2022 and shares themes including the climate crisis and respect for the natural world. 
Running until 4 September, Sound of the Earth is free to visit on the lower ground floor of the RWA. 
Images: 'Sound of the Earth Exhibition' installation view, RWA 2022. Photos by Lisa Whiting