RWA Masterpieces: 5 great artworks by women to see for free in Bristol this month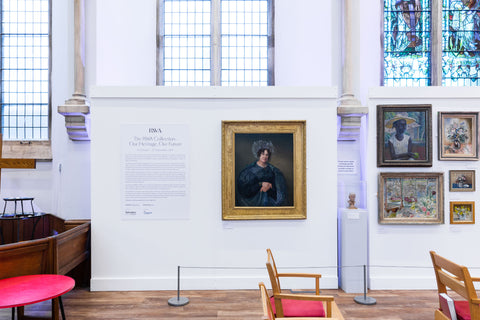 The RWA has played a key role in British art – including women's art – for well over a century.  
On show now at the Victoria Methodist Church on Whiteladies Road is The RWA Collection - Our Heritage, Our Future, a free exhibition of masterpieces from over 150 years of British art, some of them rarely-seen.
These hidden art gems normally reside next door in the basement archives of the Royal West of England Academy – but while Bristol's oldest art gallery is undergoing a major refurbishment, the show is a fantastic opportunity to see works from its collection up close.

Amongst the works on show are a number of landmark paintings and sculptures by the country's most important female artists. Here Andrew Nixon, editor of The Floating Circle arts blog, picks out five seminal RWA works by women that you can see for free this month...
1) Rolinda Sharples - Portrait of Ellen Sharples (mid 19th century)
Image: Rolinda Sharples RBA Hon, Portrait of Ellen Sharples, c.1830. Oil on canvas, 90 x 72.4 cm. RWA Collection. Photo ©️ RWA
The RWA has been a pioneering force for promoting women in art since it was founded in the mid-19th century. It welcomed women as members long before they got the right to vote, permitted women in life drawing classes 50 years before London's Royal Academy did so, and elected the first of its many female Presidents in 1911. Indeed, it was the vision and money of a woman that brought it into being.

Ellen Sharples was a remarkable businessperson who made her fortune on both sides of the Atlantic as a portrait painter, with subjects including George Washington and Alexander Hamilton. Her daughter Rolinda was also a gifted artist (her famous painting of a party at the Clifton Assembly Rooms, on show in the Bristol Museum, is familiar to Jane Austen fans worldwide). Tragically she died of cancer aged 36 in 1838 and Ellen – who outlived her daughter by eleven years – poured her grief and energy into the foundation of what is still the UK's only regional Royal Academy of Art, donating her collection and providing funds for the spectacular (now Grade II* listed) building on Whiteladies Road.
2) Dod Procter - Ancilla with an Orange (1956)
Image: Dod Procter RWA RA, Ancilla with Orange, 1956. Oil on canvas, 60 x 51 cm. RWA Collection. ©️ The Artist's Estate. All rights reserved 2021 / Bridgeman Images. Photo ©️ RWA
Laura Knight, Vanessa Bell, Mary Fedden... Most of the best-known female British artists of the 20th century have had an important association with the RWA. But in the late 1920s Dod Procter was a genuine art megastar (think Grayson Perry or Tracy Emin levels of fame). Her smash-hit painting Morning was even bought for the Tate by the Daily Mail so that it could be saved for the nation.

Ancilla with an Orange is in a very different style to the sharp-lined art deco pictures that made Procter's name, but it is exceptionally beautiful nonetheless. Painted on the artist's travels in Jamaica, it has a lovely, Garden-of-Eden sort of feel (especially as the unripe orange looks rather more like a Granny Smith apple) and when seen in the flesh it positively shimmers.
3) Anne Redpath - The Yellow Sofa (1960)
Image: Anne Redpath ARA, ARWS, OBE, RBA, ROI, RBA, RSA, RWA, The Yellow Sofa, 1960, oil, 110 x 140 cms. RWA collection © The Artist's Estate. All Rights Reserved 2021/ Bridgeman Images. Photo © RWA 
Anne Redpath (1895 -1965) was one of Scotland's most important 20th century painters. She was the first female painter to be elected an Academician of the Royal Scottish Academy and received an OBE for her work at the Edinburgh College of Art.

Her father was a tweed designer and she once explained that her aesthetic was formed through childhood memories: "I do with a spot of red or yellow in a harmony of grey, what my father did in his tweed." The Yellow Sofa is a prime example of Redpath's lively, expressive domestic interior scenes that weave colours together until the picture verges on abstraction.
4) Elisabeth Frink – Red Dog (1990)
Image: The RWA Collection - Our Heritage, Our Future, installation view, Victoria Methodist Church, 2021. Photo: Lisa Whiting Photography. Red Dog features left.
Dame Elisabeth Frink (1930-1993) was a leading British sculptor of the 20th century and her reputation has only grown posthumously – indeed, shortly after her death she was one of five British 'Women of Achievement' selected to appear on a set of postage stamps. Her important sculptures include Paternoster near St Paul's Cathedral and Walking Madonna at Chatsworth House, while Bristolians will know the monumental Prisoner head in the Bristol Museum.
Red Dog is a brutally stark silhouette that somehow captures the untamed, predatory essence of 'dogness'. As striking and memorable as a Matisse cut-out, it is one of the most iconic images in the RWA's collection.
5) Leslie Glenn Damhus – Madonna and Albino Wallaby (2010)
Image: Leslie Glenn Damhus RWA, Madonna with Albino Wallaby, 2010. Oil on panel, RWA Collection. Photo ©️ Leslie Glenn Damhus
The RWA's permanent collection is not just a historical archive; it is a living, breathing thing, with new works continually added. Every year more women and men are elected to become Academicians, and the RWA provides important support and recognition for the very best contemporary painters, sculptors, printmakers, filmmakers and architects in the south west and beyond.

One recent Academician is the brilliant Leslie Glenn Damhus, originally from the USA but now living and working in Frome. Damhus' works are instantly recognisable: exquisite, witty paintings that put an idiosyncratic twist on Renaissance religious imagery: Madonna and Albino Wallaby is a beautiful example.


The RWA Collection - Our Heritage, Our Future runs until 27 Nov 2021 at the Victoria Methodist Church, Whiteladies Road BS8 1NU.
Andrew Nixon is a writer from Bristol and editor of The Floating Circle, the online arts magazine of the Friends of the RWA.