RWA Crowdfunder - Light Up Lives with Art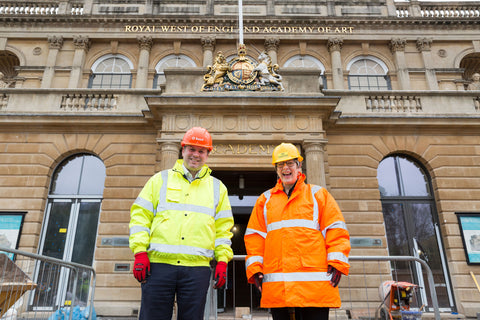 It's been just over two weeks since we launched our Light Up Lives with Art Crowdfunder Campaign, and we are so grateful for all your support, particularly at this extremely difficult time.
Your donations are helping us reach the final stage of our biggest restoration project in over a century - our Light and Inspiration project. Through this project we are transforming the RWA into the most welcoming art gallery between St. Ives and London, improving building access and creating a community hub that will allow extraordinary encounters with art, for everyone.
We have listened to what is really needed by all members of our community and are now in the final stages of transforming our magnificent building inside and out.
Let's start with the exterior. The remodelled forecourt will be a vibrant, creative, events social space and provide step-free access into the building. We are creating new glass doorways to signal a warm and relaxed welcome to all visitors, whether you are seeing an exhibition, using our free family activity space or relaxing in the cafe. Our new, larger cafe will spill onto the forecourt and provide more seating than ever before, allowing you to relax and recharge whilst exploring our new spaces.
Every floor of the building is accessible with our new lift, capable of carrying four wheelchair users and their carers. Downstairs the building is being remodelled to ensure everyone feels uplifted and inspired by their visit. A free to access Family Activity Space will hold activities to play and unleash everyone's creativity, whether you'd like to dress up as an artist or create a huge abstract masterpiece.
Downstairs is also home to our new, fully equipped Changing Places toilet facility, essential for those with profound and severe disabilities to be able to visit - currently only available in only 5% of arts and heritage organisations. Further down our community gallery hallway you'll find a bookable quiet space for people with sensory issues or autism.
Upstairs in the gallery spaces, we are restoring our beautiful building's original features and making some much-needed improvements to reduce our environmental impact for years to come. We are replacing our roof lanterns with double glazed units, eliminating carbon fuels from our heating and lighting, making the galleries cooler in summer and warmer in winter. The Drawing School has been moved upstairs to a purpose-built space with endless storage and new lighting, perfect for our classes and workshops. Finally, a free gallery will sit upstairs, filled with a collection of works by our RWA Academicians showcasing a wide range of practices including painting, printmaking, sculpture and photography.

Thanks to a generous local family trust, every donation through this Crowdfunder is being matched, pound for pound, so your gift is worth twice as much. We are so thrilled that along with your donations we have raised three-quarters of our target.

To thank those who have donated we are offering a number of amazing rewards including; RWA tote bags, Annual Art Passes, creative workshops, exhibition tours hosted by the curator of our upcoming exhibition 'Me, Myself, I: Artists' Self-Portraits', a limited edition, signed Artists' Proof by RWA Academician, Trevor Haddrell, created specifically for the Light and Inspiration project, plus many more exclusive art rewards.
We are so grateful for the support and donations as work continues on our transformational project. With your help we can make the RWA a welcoming space and creative hub of the South West and beyond. We are so excited to welcome you to our new building and show you around!
Find out more about The Light and Inspiration Project, and how you can support our Crowdfunder campaign RWA Light up Lives with Art. 
Images: Architects drawing of the new RWA, credit Childs Sulzmann Architects, photos: RWA during the Light and Inspiration project, February 2022, credit Barbara Evripidou