Listen - Earth: Curator's Highlights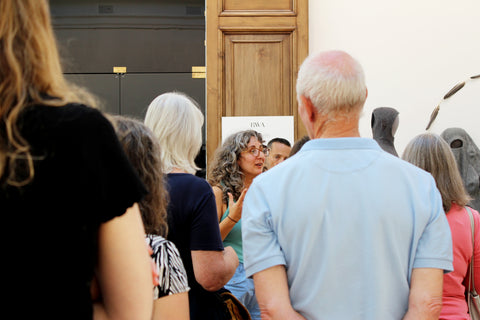 Join curators Emma Stibbon RA RWA, Professor Emerita Christiana Payne, and Nathalie Levi as they share insights and highlights from our Summer exhibition: Earth: Digging Deep in British Art 1781-2022. 
Earth surveys the representation of our environment across four centuries, inviting us to consider our planet in all its abundance, precarity, and preciousness. The tracks below include pieces in both the contemporary and historical galleries, covering a range of works and details on what made them essential to the exhibition. The full transcript can be found below the audio player.
Listen to the exhibition highlights on Soundcloud
Full Transcript  
Earth Introduction, environment Instability and Yinka Shonibare 
This is the last installment of an Element series that began in 2014 with The Power of the Sea, and then it was followed in 2017 by Air: visualising the invisible and then Firefly Ashes to Ashes and British Arts in 2019. So this is the conclusion of the series, and each of the exhibitions had a catalogue as well, which were all available from the show, and this one has just been published in time for the opening. Having such a broad subject was quite bewildering and overwhelming to begin with. There's so much just truly fantastic landscape art across so many different subject areas. We were really, really spoiled for choice. I'm not sure how many works of art in total in the show I normally do a count If anyone would like to. That would be really great. But we decided to focus in our four or so main areas within the contemporary side. Of course, a lot of contemporary artists are preoccupied with the effects on the climate and the change to our environment. So the initial section of the exhibition here is about instability in the environment, and that might be quite confrontational, like the Yinka Shonibare piece that's one of his Earth Kid works. That's Earth Kid Boy II and that was a piece made, its first time being exhibited. So it was made specially for this exhibition. And there's a heat globe map for the child's head representing areas of global heat gain. And the child is collecting kind of waste plastics and recyclables and is obviously very overburdened by them. And I think it makes quite a cogent, direct message. 
Life on Earth and the Work Fossil Necklace by Katie Paterson
We've got a beautiful piece of work which is easily overlooked because it's so delicate and subtle. It has a kind of key here, which is worth taking a look at. And it's by an artist called Katie Paterson, who's very good at her commitment to her subject is incredible. She uses each of those beads, represents an epoch in the world's history of life on Earth. So all of the species that have existed on Earth, Katie has meticulously researched and managed to source the samples from collections, from Amazon, from all sorts of geological sources. And then she's gone to a jewellery craftsperson at Hatton Garden who's then cut each of those rocks into a bead. And so that whole complete necklace represents life on earth. So very kind of well-researched and beautifully as sort of made item. And the key, as I say, takes you through all of those different, for example, petrified wood from Egypt, North Africa. They literally will take you round the kind of millennia of geological time. So we're really lucky to have that piece.
Women in Mapmaking, and the Work of Kathy Prendergast
And so in the corner here, just behind me, it's a map that's been reworked by artist Kathy Prendergast. And Kathy does really meticulous hand colouring of found maps. This this map is importantly of Chimborazo which is a volcano up in Ecuador in really high volcanic landscape. And it's interesting, Chimborazo, because it's the world's highest point. If you took it, it's on the equatorial bulge of the earth and you took it. If you took the measurement from the seabed floor to the summit of Chimborazo, in fact, is higher than Everest. So I think that's significant for Kathy that it's got this kind of elevation. Kathy is also interested in the kind of history of maps and the way they've been hand-coloured by women traditionally, you know, as a as a kind of craft which hasn't ever been recognised, really. So I think that kind of reworking of maps as a female artist is also important to her.
Professor Emerita Christiana Payne and the Sublime
Right. Well, I was asked to curate the historic part of the show. And so I thought about the theme of Earth. And basically, I worked along two lines. And the introduction to this section is called Sublime and Productive Landscapes. So on the one hand, you've got the sublime landscapes like this one in particular, the Philip James De Loutherbourg, Avalanche in the Alps which shows and really encapsulates the late 18th century idea of the sublime, which is that landscapes that are frightening fill you with a sense of awe. And if you were actually in them, they'd be properly frightening and you wouldn't like at all. But because you see them on a gallery wall, you can appreciate how awe inspiring they are and they give you the sense of the sublime. And I really like this painting because you've got different reactions along that mountain road. You've got the people well, actually, the people going down in the avalanche with the cottage who are in a really bad way. And then you've got the people on the path who are looking terrified, including a dog. And then you've got the traveller who is standing back like this thinking: Oh, isn't it wonderful, isn't it sublime? And that's the whole idea of the sublime in the 18th century. 
Emma Stibbon and Using Materials from the Landscape
Hello, everyone. And yes, I'm Co-curator of the Contemporary with Nathalie, but also I have got my piece over there, which is a print and it's called Broken Terrain. And I was on a residency in Big Island, Hawaii, which I don't know if any of you are aware is Kīlauea, which is the world's most active volcano. And I was really fortunate to have a month living on the edge of the crater, which actually now has been, I think, probably demolished because of subsequent eruptions. So it really was kind of on the edge. And actually, my print over there was made from the kind of lava floor, the pavement of the the crater, which had completely it was hot to the touch. And also the kind of movement of the earth obviously has this kind of fractured, really dramatic kind of landscape. And I used some of the volcanic ash in the actual work, making a map, drawing with with the ash that I collected from the landscape. Which brings me quite neatly onto this beautiful map in this corner; here we've got mapping the earth, the kind of loose term for this group of works. This map here is by Rodney Harris, a contemporary artist, but he's actually reworking I don't know if any of you were aware of the William Smith map made in 1799. Smith was a really important moment in kind of our understanding of the work that the Earth's geologically he made the world. This is the first geological map that William Smith made where he obviously started to look at fossils, sections and strata and understand the Earth in terms of its actual stratification and dating, which of course Darwin and subsequent understandings of the earth. That was really critical. Rod himself walked British Isles and collected different kind of rocks from each area and then he ground them up. So all of the different colours that that he's printed are actually pigment, that he's ground up and then mixed with linseed oil and then printed to make his version of the William Smith map. So again, it's got that kind of actual soil from the landscape representing itself. 
Atypical Landscapes Edward Chell and Carol Rhodes
On the other side of the room we've got works by Edward Chell and Carol Rhodes, and they're both quieter examinations of what we might not consider landscape in the typical sense. Edward Chell's piece is the motorway verge. I think it's the M2. Can anyone see the label? M20 and he has done a series of where it's called the Garden of England Series and they're all focusing in on motorway verges, which have been called Britain's largest nature reserve. And whilst we all just zoom through them not paying very much attention, there's all kinds of endangered species and flora and fauna and wildlife on these kind of connective corridors down our roads. And he went on a tour of them to make these oil on linen, and he exhibited them originally in Little Chef restaurants as a kind of equivalent of modern day equivalent of 18th century watering holes. When artists went on the Grand Tour and this was his vision and the Carol Rhodes piece, that's an aerial view of a factory site. Again, not your typical view of a landscape and drawing attention to an area, of something that doesn't ever in the pictures that you don't ever see human activity or people, they're all very rare landscapes painted in complete solitude. And you just see the buildings and the road networks. But it's here that much of environmental change is taking place inside the factories, inside our production units. We've been through a kind of industrialisation of our landscape. 
David Nash and the Wooden Boulder
So on your on your way through you might have noticed the film that you passed just on your right. That's a piece of wooden boulder by David Nash that he began in 1978, by accident! He was trying to carve a big hunk of wood from a tree near his studio, to take home and make one of his most well-known and sculptural works. He got it stuck, and the only way they could think to get it unstuck was to try and lever it into a stream to help it come unstuck and move it along. Instead, it became so unstuck, it just floated off. And ever since, this boulder has traveled in and out of the local landscape and really quite a lot further afield as well. It was less spotted in about 2015, which is where the film ends, but the piece is still out there, it's still an ongoing work and it's become a really original type of landscape and contemporary landscape piece as he's tracked and follows this wooden boulder throughout the seasons and all kinds of dramatic and interesting places and shores and beaches and estuaries and rivers that it's wound up in. So the film is about, I think it's about 15 minutes long, and it goes right back to the start of its journey in the seventies. And every so often David will get a phone call from someone he knows saying, We've seen the boulder. You should get out here and take some footage or send in some pictures as a sort of collage film. But it's it's really, really beautiful and quite poignant. And I never thought I could feel such strong emotions, but just a really great big piece of tree! 
Transcript ends.
Visit the exhibition
Earth: Digging Deep in British Art 1781 - 2022 is showing at the RWA until 11 September 2022.
Tickets can be booked in advance, or purchased on the day of your visit. Please note: we operate on a cash-free basis. Join as a Friend for free, unlimited entry to all RWA exhibitions.
You can also join our scheduled Earth Curator Tour in person, on Saturday 6 August between 12 - 1pm. 
#RWAEarth