A Glimpse into the Studio of Anthony Whishaw, RA RWA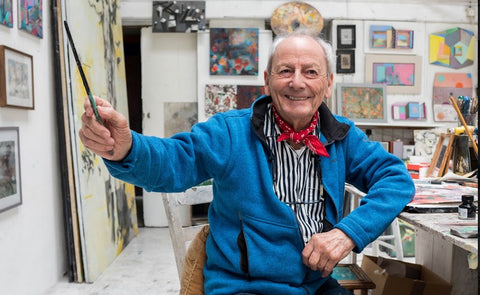 Anthony Whishaw's practice is full of discovery, energy, and texture.
At 92 Whishaw still works on countless paintings simultaneously in his London studio. We take a glimpse into the Artist's studio and look back on over 60 years of practice, including the importance of discovery and the natural world, themes in his current exhibition Anthony Whishaw at 92: A force of Nature in the Kenny Gallery here at the RWA. 
Whishaw lived in Brazil in his early years before moving back to the UK at the start of World War II. He studied at Chelsea School of Art and the Royal College of Art where he was awarded the Travelling Scholarship which allowed an extended visit to Spain in 1955, igniting a love for the country its landscape and culture that has lasted a lifetime. Over his 60 years of practice, Whishaw has many awards and accomplishments to his name, with countless solo shows including Kettle's Yard, Cambridge (1982), Royal Academy of Arts (1987, 2020), the Barbican Centre (1994), Fine Art Society (2010, 2021) and many others.
His works relate to his own experiences and memories of his environment, sometimes painted many years later. They recreate the mood, sensations, and feeling of a place or happening, rather than any pretence of accurate representation.
"...Creation is not a reproduction of observed fact…the aim of art is the fusion of ideas and experiences with the qualities of the art medium so the artist creates a new reality. The medium becomes the work of art. The work of art is a world in itself at the same time as of the world." (Anthony Whishaw)
Anthony Whishaw - 'Collapsing Tree' (2008-10)
Whishaw is driven by the act of discovery and finding something new within each work, always looking to be surprised. This approach has led to a rich and varied body of work that spans a range of styles and techniques. Experimentation with materials has long been instilled in Whishaw's practice including cement, ash, soil, and sawdust in his paintings. Looking into his studio in London we can see the array of materials and works in progress. 
The natural world and the environment are significant themes in Whishaw's work. Pieces inspired by storms, water, wind, and bird murmurations all feature throughout his career and are collated in the new exhibition currently at the RWA, with 2 additional pieces featuring in the Summer Exhibition: Earth: Digging Deep in British Art 1781 - 2022.  From large-scale canvases to smaller whimsical pieces measuring just 11cm high, his paintings are a surge of ideas, texture, and energy which immerse the viewer. 
Anthony Whishaw at 92: A Force of Nature is free to access in the Kenny Gallery until 11 Sept 2022. All works are for sale. 
A recent short film about Anthony Whishaw can be seen here: 2022 - 'A Morning with Anthony Whishaw', in the artist's studio with Richard Davey, by Reece Straw — Anthony Whishaw RA
Website: www.anthonywhishaw.com 
Instagram: @anthonywhishaw 
Lead Artist portrait - Reece Straw
Studio photos courtesy of Zoe Whishaw