Eileen Cooper OBE RA accepts Honorary RWA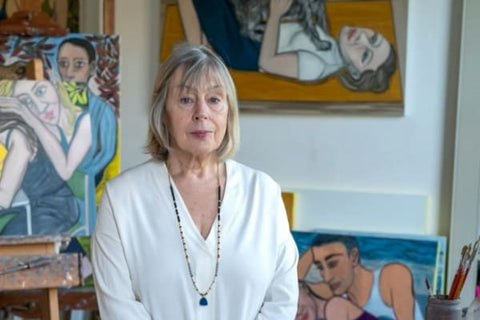 We are delighted to announce that artist Eileen Cooper OBE RA has accepted an invitation to become an Honorary RWA Academician.
Eileen Cooper OBE RA RWA Hon is best known for her bold and richly coloured paintings and prints, and her strong and passionate commitment to figuration. Originally from the Peak District, Cooper has exhibited widely both in the UK and internationally throughout her career, and taught at a wide range of art schools.
In 2001 Cooper was elected a Royal Academician, and served as Keeper of the Royal Academy from 2010 to 2017, becoming the first woman ever to take the role since the Academy began in 1768. In 2016 she was made an OBE for her services to Art and Art Education. Her commitment to the development of emerging artists continues to be a particular focus.
Cooper is also an Honorary Fellow of the Royal College of Art, and of the Murray Edwards College, University of Cambridge, and received an Honorary Doctorate from Southampton Solent University in 2014.
Eileen Cooper has supported the RWA in recent years contributing to our Secret Postcard Auctions, and opening her studio for a private visit in support of our recent fundraising efforts.
Cooper's work has been exhibited at RWA exhibitions including 'Strange Worlds: The Vision of Angela Carter' in 2016/17 and 'Sawdust and Sequins: The Art of the Circus' in 2018, and will be included in our 169th Annual Open Exhibition, opening later this year (8 October - 8 January 2023).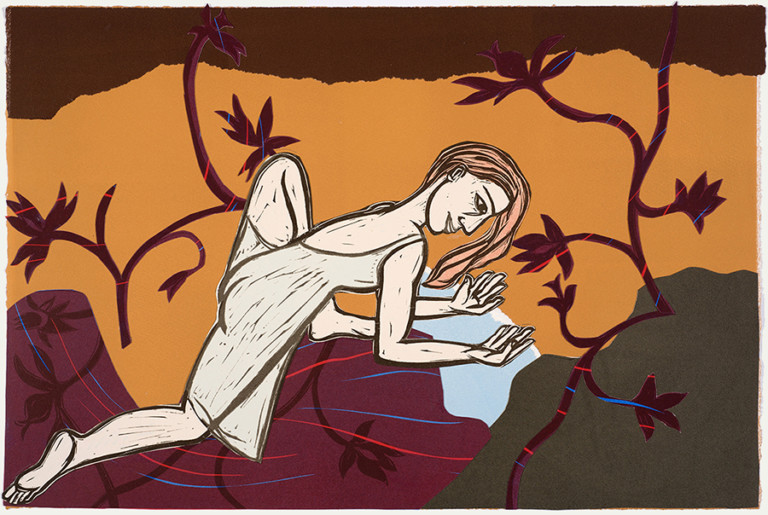 Eileen Cooper OBE RA, Fable, Release, 2018. Collage with linocut and monoprint 38x56.5 cm
In 2020 we welcomed Sir Frank Bowling OBE RA and Rebecca Salter PRA as Honorary RWA Academicians.
Sir Frank Bowling OBE RA became a Royal Academician in 2005 and was awarded the OBE for Services to Art in 2008, going on to be awarded a Knighthood in the 2020 Birthday Honours.
Bowling was born in British Guiana in 1934, and arrived in London in 1953, graduating from the Royal College of Art with the silver medal for painting in 1962. By the early 1960s, he was recognised as an original force in London's art scene with a style combining figurative, symbolic and abstract elements.
Bowling has had a long association with the RWA, which hosted a major solo exhibition of his work in 1989.
Bowling and Salter were both invited artists at the RWA 168 Annual Open Exhibition.
Frank Bowling OBE RA, Self Made, 2020, acrylic on canvas.
Rebecca Salter PRA is an abstract artist best known for her painting and printmaking work. In December 2019, she was elected the 27th President of the Royal Academy of Arts in London, and became the first female President since the Academy was founded in 1768.
Rebecca studied at Bristol Polytechnic and then at Kyoto City University of the Arts in Japan, where she lived for six years.
Her work brings a quietness and repose that prompts escape from what she has expressively referred to as our 'digitally-rich and time-poor culture'. In the muted colour cadences and detailed surfaces there is encouragement to linger, absorb and to ponder difference.
Rebecca Salter PRA, 2019-02, mixed media on paper.