Eileen Cooper
Eileen Cooper is a respected artist known for her strong and passionate commitment to figuration.

Studying first at Goldsmiths College (1971-74) and then at the Royal College of Art (1974-77) she went on to teach at a wide range of art schools including St Martin's, the Royal College of Art, City & Guilds in London and latterly at the Royal Academy of Arts. In 2000 she was elected a Royal Academician. From 2010-17 Cooper served as Keeper of the Royal Academy, one of only 4 officers selected from the 80 Royal Academicians, and with primary responsibility for the Royal Academy Schools, thereby becoming the first woman to be elected to this role since the RA began in 1768.
Originally from the Peak District, Cooper has exhibited widely in the UK and internationally. Her work is held in many public and private collectionsShe was made an Officer of the British Empire (OBE) for services to Art and Art Education in 2016. Her commitment to the development of emerging artists continues to be a particular focus.
Her richly diverse images, simultaneously bold and tender, reveal a range of feeling that is both deeply engrossing and readily accessible, yet still very much part of contemporary art practice.
Throughout her career Cooper's work has contained a strong autobiographical element. However, her vision is always more allegorical than anecdotal, her concerns and experiences as relevant and timeless as those of the human spirit itself.
Cooper was Elected an Honorary Academician for the Royal West of England Academy in 2022.
Website: Eileen Cooper RA
Gallery Images (from left)
Eileen Cooper in the studio

Artist to Artist Portrait of Zelga - 2020 Oil on Canvas 154x157cms

Blissful - 2020 Oil on Canvas 91x76cms

Cassandra 2014 - Edition of 14, edition of 7, 38x34.5x10cms

Glazed Ceramic Vases , 2020

Fable, Release - 2018, collage with linocut and monoprint 38x56.5cms
In the Studio - 2020, Gouache ink, 28x38cms
Mothers Day- 2021, Oil on Canvas, 106x81cms 
Related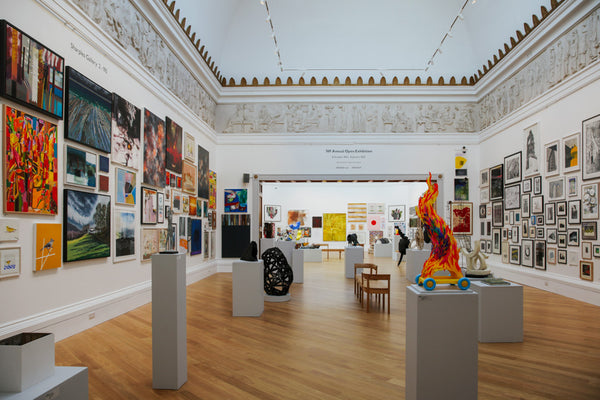 8 Oct 2022 - 8 Jan 2023
Bristol's Royal Academy presents its 169th Annual Open Exhibition, showcasing some of the most exciting artists from across the country and beyond.