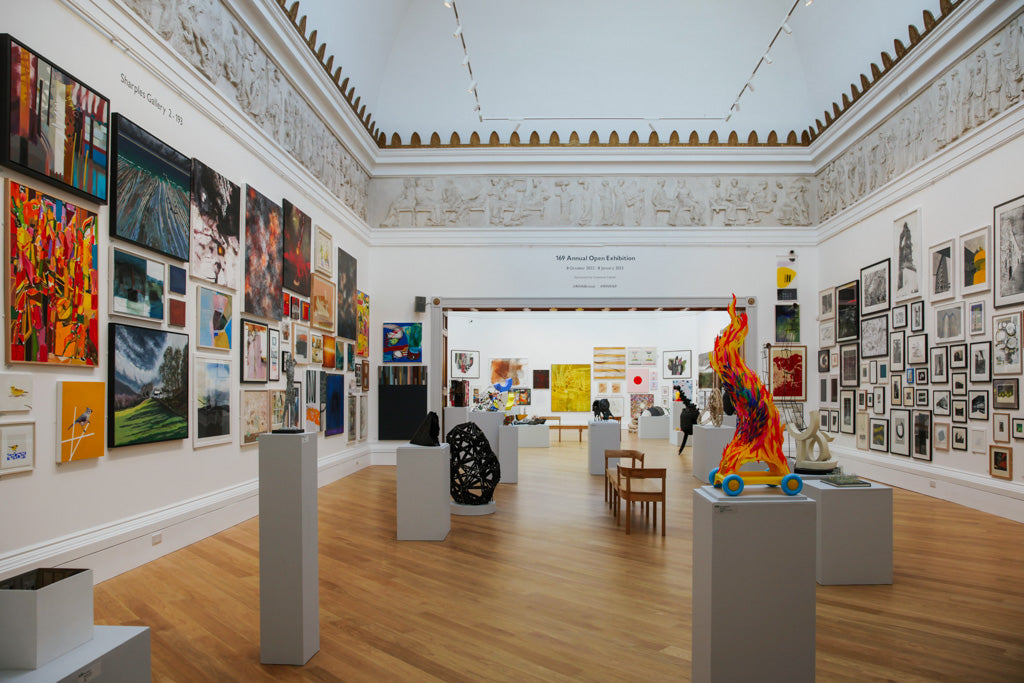 169 Annual Open Exhibition
8 Oct 2022 - 8 Jan 2023
The RWA's renowned Annual Open Exhibition is now in its 169th year, and as always offers a stunning variety of work from emerging and established artists.
This dynamic, varied and uplifting exhibition includes a stunning array of painting, drawing, printmaking, photography, sculpture, installation and mixed media artworks, and is a showcase of some of the most exciting artists from across the country and beyond. 
Amongst the artworks on show are two watercolour paintings by His Majesty King Charles III - a unique chance to see the work of a reigning British monarch alongside art by a wide range of other artists.
All work is for sale (other than those by HM The King), making the Annual Open a perfect opportunity to discover new artists or invest in well-known names.  You can browse - and buy - the artworks from your home HERE.
A selection panel assessed every entry and this year over 500 works made it into the final exhibition. The panel this year included; Academicians' President, Fiona Robinson PRWA, RWA Academicians; Sarah Gillespie, Dorcas Casey, Nicholas Turner and Hamish Young, alongside Mark Golder (collector and benefactor, Golder Thompson Collection), Sue Hubbard (Art Critic, poet and novelist) and our invited artist, Matthew Burrows MBE (founder of the Artists' Support Pledge).
Prizes this year included:
£5000 Academy Prize, for an artwork by any artist in any medium

 

£500 Harford prize, for an artist of global majority or mixed ethnicity.

 

£250 + £100 Watercolour prizes

 

£300 Derek Balmer PPRWA Painting Prize

 

£300 Drawing Prize

 

Martin Parr Foundation Photography Prize

 

Niche Frames Prize - £250 cash and £250 framing voucher

£250 Students' Prize, sponsored by the Friends of RWA

Rabley Gallery Print Prize

 

Pangolin Sculpture Prize

 

Evolver cover prize

 

Evolver feature prize

 
The RWA as a Charity
The Annual Open reflects the RWA's ongoing commitment to championing world-class art in the region and creating opportunities for new and emerging talent. Income from submissions is a vital source of support for the RWA, an independent charity (1070163), in order to maintain its historically significant building, present its ambitious programme of exhibitions and deliver creative opportunities for young people and adults across Bristol.
Find out more about this exhibition: #RWA169
Sponsored by
Image: 168 Annual Open Exhibition, installation view, RWA, 2021. Photo: Alice Hendy.
Newsletter
Sign up to our newsletter to keep up to date with RWA news