Dinner with Grayson Perry - A Fundraising Celebration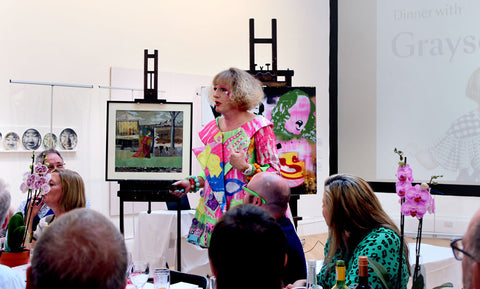 Last week we put on our best colourful frocks and welcomed over 100 guests for 'Dinner with Grayson Perry'. The evening was a celebration of the Light and Inspiration Capital Project coming to completion but also a fundraiser to help light up lives with art across Bristol and beyond. As an independent charity, less than 1% of our costs are covered in public subsidy, so every pound raised counts towards inspired communities with art across the South-West.
The evening started with us welcoming Grayson through our doors, decorated with ribbons and plants. RWA Director Alison Bevan took the guest of honour for a tour around our Family Activity Space and the Changing Places Facility, areas that are so important to enable us to reach and support all of those in our community. Guests enjoyed drinks on the terrace before being seated and welcomed by Dr Phil Hammond, broadcaster, comedian and commentator, who got the evening started with laughter. Grayson Perry then took to the floor, delivering a joyful and energetic talk on 'Bad Art' and invited guests to create their own self-portraits. Guests enjoyed food by Papadeli before settling down for the finale of the evening, the Live Auction.
BBC Auctioneer Izzie Balmer, best known for Antiques Roadtrip, expertly navigated the galleries, drumming up support, and bids for 6 live lots including original artwork by Nick Walker, a Drawing Class with stars of Bristol City Football Club and a self-portrait created by Grayson Perry during the event. Director Alison Bevan followed the raffle and thanks to the generosity of everyone at the event we raised an amazing £35,000.
Bringing art and creativity to communities across Bristol is the beating heart of what we do and fundraisers including this one ensure we can carry on with our mission of making art accessible to all. Funds from this auction will help towards our programme of work which includes in-person tours in British Sign Language, creative workshops for children with disabilities, exhibition tours for new parents with their babies, specially devised schools workshops, artist-led projects with disabled adults, free art workshops for families in Easton, Redcliffe, Hartcliffe and Southmead and much more.

A huge thank you to Grayson Perry, Izzie Balmer and Dr Phil Hammond for generously giving up their time to support us with the event, to volunteers and Visitor Experience and events staff for putting together a fabulous evening. Additional thanks to our sponsors of the Light and Inspiration Capital Project, the Light and Inspiration Activity Programme and contributors to the evening fundraising dinner and auction.
As an independent charity with very limited unrestricted reserves, we rely on ticket sales and commercial income for survival. Find out more about supporting the RWA.