Best of the West - Art exhibitions and events in April 2022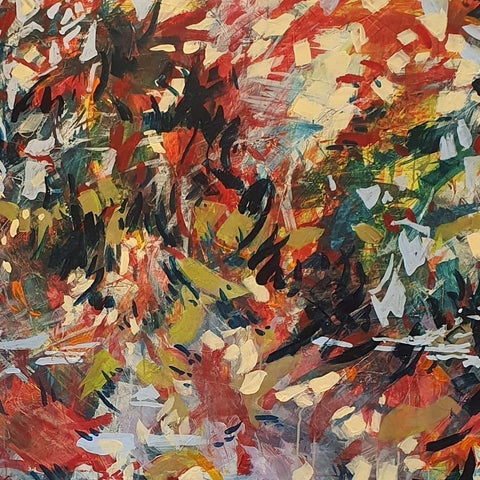 The best art exhibitions coming up in Bristol and the West Country – selected by the Friends of the RWA…
Here's our pick of the best art exhibitions and events happening in and around Bristol and the south west in the month ahead – including a look ahead to upcoming features…
Compiled by Sue Quirk and Laurel Smart
At the RWA
ME, MYSELF, I: ARTISTS' SELF-PORTRAITS
2 MAY - 19 JUNE 2022
Me, Myself, I: Artists' Self-Portraits is the RWA's landmark reopening exhibition following the transformational Light & Inspiration £4.1 million capital project. Opening to the public from 2 May – 19 June 2022, it will take place across all main gallery spaces.
The exhibition includes over 80 works by artists including Sir Joshua Reynolds, Angelica Kauffman and Lucian Freud, alongside contemporary work by Grayson Perry, Gillian Wearing and many more.
Curated by Tessa Jackson OBE, the show provides an illuminating overview and historical context to society's current interest in self-representation and selfie culture, through an exploration of self-portraiture by artists over the last three hundred years.
Exclusive Priority Days for Friends are on 30 April and 1 May 22. Book your places here.
CURRENT EXHIBITIONS
1) LAUREL SMART: COLOUR BEYOND DARKNESS
30 MARCH - 8 MAY 2022, TETBURY ARTS
Laurel started painting large abstract canvases about four years ago. Most often they are entirely intuitive and only tell their story once they are complete. They tend to be busy, energetic and evocative. Laurel loves colour and the physical experience of applying paint to the canvas.
She is fascinated by the relationship between chaos and order in nature. This is reflected in the way she paints, starting with apparently random marks, gradually imposing some order and then disrupting it to build it up again. The paint is many layers deep. "The painting will often impose itself on me and I follow where it takes me, rather than make it do something else. I try to keep an open mind about how a painting will evolve. Rather like a conversation, I respond to the last mark and the new dynamic that is created. I rarely know when a painting is finished. Each painting has a resting period and then if, at the end of that time, it doesn't ask for more, it's done! But no painting is safe from revision!"
Tetbury Goods Shed Arts Centre, Old Station Yard, Cirencester Rd, Tetbury GL8 8EY
2) JANET SAINSBURY: DON'T LOOK NOW
2 – 30 APRIL, PLOUGH ARTS CENTRE 
A new series of oil paintings examining the often complex relationship between the muse and artist. Anthropomorphic coastal rock formations provide a dramatic presence, influencing the dynamics and connections between the characters. Unstable, finely balanced rocks threaten to topple and erode the landscape and change the narrative.
The Plough Arts Centre Limited, 9–11 Fore Street, Great Torrington, Devon, EX38 8HQ
www.theploughartscentre.org.uk
3) JEAN ROSE: PEOPLE, PARKS AND PLANTS
UNTIL 4 MAY, VICTORIA ART GALLERY, BATH
The painterly energy of the artist Jean Rose has been channelled into this charming exhibition full of the delights of a life well lived. Inspired by the intimate interiors of Vuillard, she developed her warm painterly patterns in park scenes and floral subjects that reveal the clarity and focus she sees in the world around her. Still working into her nineties, this remarkable artist completes a painting a week.
During lockdown she turned to Sydney Gardens for inspiration. This exhibition gives visitors a glimpse of the relationships she sustains with her family, home and outdoor spaces.
4) CANDICE LIN: PIGS AND POISON
UNTIL 8 MAY, SPIKE ISLAND, BRISTOL
A major new commission by LA-based artist Candice Lin that expands her ongoing research into marginalised histories, colonial legacies and the materials that link them. Combining materials as diverse as opium poppy, bone black pigment and lard, the exhibition weaves together wide-ranging stories of migration, biological warfare, and British and American colonial relationships with China to explore how Asian people have often been defined in relationship to animality, contagion, and the inhuman.  Lin traces how these definitions have subsequently influenced constructions of whiteness and citizenship in the United States.
Spike Island, 133 Cumberland Road, Bristol BS1 6UX
WATCH OUT FOR…
MILKIE: MY HAPPY PLACE: 1-23 APRIL My Happy place conveys ideas of the happy and the sad, exploring the relationship between how we view ourselves and how we feel within ourselves. HOURS, BRISTOL http://www.hours-space.com/2022/02/05/my-happy-place/
CHRISTINE ALLISON: EVERY BREATH WE TAKE: UNTIL 24 APRIL tribute to the planet's most important and too often undervalued resource: trees. LYME BAY ARTS, BRIDPORThttps://lymebayarts.co.uk/wordpress/every-breath-we-take/
IDA APPLEBROOG: RIGHT UP TO NOW: UNTIL 2 MAY The exhibition includes a collection of archival photography and technical notes relating to biomorphic sculptures dating from 1969 until the early 1970s. HAUSER & WIRTH, BRUTON https://www.hauserwirth.com/hauser-wirth-exhibitions/35570-ida-applebroog-right-now-1969-2021/
If you would like an exhibition or artist to be listed please email laurel.smart@blueyonder.co.uk and we will consider it for inclusion.
Interested in reading more articles like this? Find out more about joining the Friends of the RWA. This piece is from their quarterly newsletter—a publication exclusively for the Friends of the RWA containing articles, interviews and RWA news.
Article by Andrew Nixon, editor of the Friends of the RWA's arts blog The Floating Circle.
Main Image: Laurel Smart, Turning Point
Images in body of text: Tony Bevan RA (B.1951), Head and Neck, 2007, acrylic on canvas, 90.6 x 74.1cm. Royal Academy of Arts, London. Photo (c) Royal Academy of Arts, London; photographer: John Hammond. (c) Royal Academy of Arts, London / Janet Sainsbury, Go Wild, 60 x 50cm, oil on canvas, 2022