Artist and Graduate Steph Garratt on why they submitted to the AOE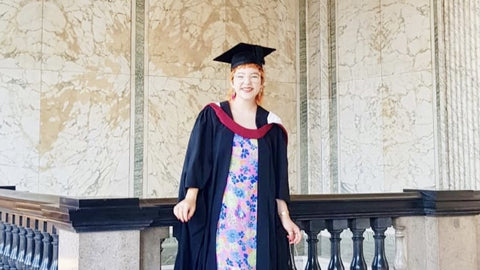 With just a few days left to submit your work to the 169th Annual Open Exhibition we catch up with artist and recent grad Steph on how submitting has given her a goal to focus her creative energy. 
T
ell us a little bit about yourself and what you do or particularly enjoy at the RWA
Hello, I'm Steph, I have lived in Bristol for about four years after moving here from North Lincolnshire for University. I started working at the RWA in April as the Visitor Experience Supervisor which means that I look after the building and keep everything safe and open for the public to enjoy. I spend most of my time at the front desk so you will probably see me first when you come into the building. My background is in Art History, which I studied for my Undergraduate Degree, followed by an MA in Medieval Studies. I am also an artist. Creativity has always been a huge part of my life and so one of the things I love best about working at the RWA is being able to have lots of interesting and inspiring conversations with my colleagues, many of whom are artists themselves, with members of the public who come from all over, and with the artists who have been lucky enough to have their work exhibited here. Recently, I had the opportunity to help our outreach team at the opening of a new exhibition by BRAC (Bristol Refugee Artists Collective), Sound of the Earth, where I conducted some interviews with the artists involved. This was a wonderful experience and gave me the chance to learn about the individual artistic practices of so many different people from all walks of life. I am continually inspired by the outreach work that the gallery is involved with and since starting here, I have discovered an ambition to work within that sort of field in the future.  
What drew you to submit to the AOE? 
I have always loved visiting the Annual Open Exhibition at the RWA and admired it for the incredible variety and sheer quantity of work that it displays. I have always hoped to see some of my work up on those walls. After I finished my studies last year I found that I didn't have any particular goal to work towards and the AOE gave me something to focus my energy on, so that I could motivate myself to keep creating. 
Now tell us about your work. What techniques do you use, or what subject matter does your work cover? 
I work in quite a few different mediums, but whatever I make, colour is usually a focus point. I studied the German Expressionists during my undergrad and was inspired by their philosophies on colour; that certain colours meant certain things and could evoke particular emotions when viewed. When painting I work mostly with acrylics. I create images by layering up different colours, working with one at a time and continually trying to balance them across the canvas. Acrylics are perfect for me because they dry so quickly and I can be very impatient! Last year I taught myself to use a graphics tablet and began designing headscarves based on artworks and manuscripts that I discovered during my MA, weird and wonderful images form the medieval world that I wanted to give new life to by making them into colorful silky headscarves for myself and others to wear. Recently I have discovered a fascination with textiles history and different world embroidery practices so I taught myself how to embroider and can't seem to stop. At the moment I embroider every day, whenever I get a spare moment, I like to keep my hands busy. I use colored wool and hessian and create different textures with the direction of my stitches. My subject varies quite a lot, I like to paint portraits and figures, but also domestic scenes and still lives made up of objects that comfort me, like a vase that I got from my grandparents or, more recently, my lovely cat Ginge!  
Who or what inspires you?
I find inspiration in all sorts of places, I love Kirchner and Kandinsky for their use of colour, Klee for his abstraction and subject matter and Primachenko for her use of folkloric motifs and imagery. I am inspired by medieval maps for their curious and clever ways of depicting physical and imagined space, by ancient Andean fabrics for their exceptionally intricate and colorful designs and by so many contemporary artist who I have discovered over social media platforms like Instagram. I like to make art that envelopes me when I am making it, I will spend hours and hours on a single embroidered image or return again and again to the same painting to change the way I have placed its colours so that they complement or clash against each other in different ways. I have struggled with my mental health for several years and my creative practices have become one of the most valuable tools I have for self-regulation. I find the act of making something incredibly therapeutic and so all my art becomes visual reminders of my continual but varying capacity to cope, and I find a lot of pride in that. 
Why did you create the pieces you have submitted? Or what about these pieces did you want to share?
One of the works that I have submitted to the AOE is a tapestry depicting my living room. This piece took close to a hundred hours to complete as it was entirely hand embroidered, but I enjoyed every moment that went into it. As I said, my artistic practice is like therapy for me, I tend to disassociate quite a lot, but working on something like this tapestry helps to keep me calm, grounded and within myself. These feelings of comfort and safety are what I experience when I am home, in my living room with my friends, my cat and something mindless on the telly. For me, this piece is security; it's the blanket me and my partner share when we watch a film, it's the view of the garden from my bedroom window, it's the smell of incense and coffee in the morning and it's the soft white tummy of my cat when he stretches out for a stroke. I think I started it imagining that it would remain a perfect rectangle, but as it grew, it became a shape all of its own. In that I can see the tension of my embroidery hoop and the books I piled on top of it to try and flatten it out. It has completely embodied the process of its own construction and I know that a very particular set of circumstances, particular moments in my life went into making it, and I love it for reminding me of them.
Thank you to Steph for chatting with us! You can follow Steph's wonderful work work on Instagram at @stephg.art. We wish her the best with her submission! 
Submissions to the AOE close at on Sunday (14 August) with discounted entry for students! Find out more and submit your work