All you need to know about the 2022 Secret Postcard Auction - including FAQs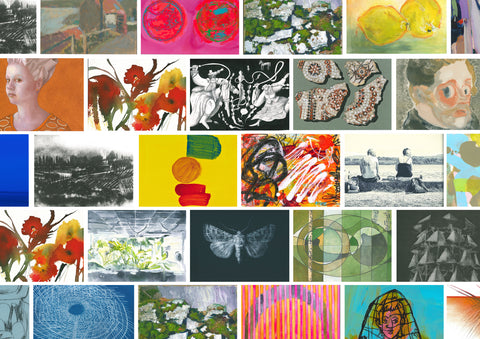 Savvy art buyers get the chance to snap up the bargain of the century as the Secret Postcard Auction returns. Here's how it works, including FAQs for bidders...
Following the huge success of the 2021 Secret Postcard Auction, the event has returned online from 29 October - 10 November 2022. 
This hotly anticipated fundraising auction offers the chance to purchase unique works of art by leading figures from the art and cultural world from just £40, while supporting the RWA as a registered charity. Last year we were blown away by the support, as donations reached nearly £95,000 - which was a vital contributor to our finances following the most challenging of years, while we delivered our major Light and Inspiration building transformation.
If you are new to the auction you may like to know how it works... 
What is The RWA Secret Postcard Auction?
The Secret Postcard Auction offers you the chance to purchase unique works of art by leading figures from the art and cultural world. 
All artworks are signed on the back, so buyers either have to guess who the big name artists are or just buy what they like. Bidding on each work starts at just £40, which is a very reasonable price for a unique piece of art, and if it turns out to be by a Turner Prize winner or other leading artist, it might just be the bargain of the century!
This year, as last year, we are hosting the auction online only. 
Which artists are participating?
Thanks to the generosity of so many artists there will be hundreds of postcards to bid on.  
The confirmed 2022 artists so far include... 
Turner Prize artists such as Jeremy Deller, Gilbert & George RA, Sir Richard Long RA, Alison Wilding OBE RA and Bill Woodrow RA
Royal Academicians including Norman Ackroyd, Sir Frank Bowling, Eileen Cooper, Christopher Le Brun PPRA, David Nash, Chris Orr, Peter Randall-Page, Rebecca Salter PRA, Emma Stibbon and Anthony Whishaw 
Other much-loved figures such as Glen Baxter, Simon Drew, Maggi Hambling CBE, Harry Hill, Peter Lord CBE, Nick Park and Sam Toft
Numerous RWA Academicians including  Leslie Glenn Damhus, Stewart Geddes PPRWA, Janette Kerr PPRWA, Dr Kurt Jackson and Fiona Robinson PRWA
And many more!
A full list of artists can be found here. 
How big are the artworks?
Unless otherwise stated, all pieces measure c.7" x 5" (19 x 14 cm), roughly A5 - so a generous size and around twice the size of other 'postcard' auctions! These truly are artworks that will enhance anyone's collection: big enough to make an impact, yet small enough to find room for in even the most ardent collector's home.  
Please note: we have done our best to present the most accurate representation of each artwork, but colours may vary from what is shown on screen. 
Are the artworks signed?
Yes - we have asked the artists to sign their works on the back, so you either have to guess who the big name artists are or just bid on what you like. Each postcard is also accompanied by a certificate of authenticity signed by the RWA director. 
What time does the online event start and when does bidding close?
Bidding opens for the public on 29 October (Patrons and Friends get early access) and will close between 9pm-9.30pm on Thursday 10 November. 
PLEASE NOTE: To help items achieve their full value and to reduce 'auction sniping', our auction platform automatically extends the end time of an item by 3 minutes when it receives a bid during the final 3 minutes. This process repeats until no new bids are received during the final 3 minutes of the item bidding window, or the auction has been extended for a maximum of 30 minutes beyond the original end time. 
How do I bid online?
The event will be held on an online auction platform, 32 Auctions.
Bids start at £40. Each bid must be at least £5 more than the previous bid. There is no limit on how many bids each postcard can receive or how many each bidder can make, so if someone outbids you, feel free to increase your bid to outbid them! If your bid is the highest by the close of the online event (around 9pm on 10 November) then you win!  
A proxy bid allows you to enter the maximum amount you're willing to spend with the goal of winning the item at the lowest possible price. The system will bid for you, up to your maximum proxy bid amount, as additional bids are entered on the item. 
An exact bid is the amount you want the item's current selling price to immediately jump to. Your bid amount will not change as additional bids are entered on the item. 
Please note that you will need to create an account before you can place a bid. 
Will I be notified If I am outbid?
Yes on the email you signed up with. Make sure to keep an eye on your emails!   
If I win, how do I pay?
You will receive an email confirmation directing you to pay online for your winning lots. Please be sure to check the email you signed up with. 
When do I need to have paid by?
Please note that a winning bid is a binding commitment to pay within 72 hours of the auction ending (9pm on 12 November).  If you have not made reasonable efforts to pay within this time, we reserve the right to offer the item to the second highest bidder, and you will be barred from taking part in any future auctions.  
Can I remove bids whilst the auction is in progress?
If you accidentally enter the wrong amount and need to amend or remove a bid, please contact the auction administrators on info@rwa.org.uk as soon as possible. Please note bids cannot be removed once the auction has ended (see below). 
Can I change my mind if I no longer want an artwork and the auction has ended?
A bid on this item is considered a binding contract, and should you win the item you are obliged to purchase it. The name of the artist will only be revealed once payment for this item has been received. Please ensure that you have read pick the shipping instructions before bidding.  
Will there be a separate auction for the 10 postcards with the most bids, as in previous years?
No, as last year there won't be a separate auction for any of the postcards. 
When will all the artists and

their

 works be revealed?
All postcards will be viewable on rwa.org.uk after the auction, and will include the artists' names, so you can see if you were right in your hunch about whose was whose! We do not publicise the winning bid amounts for each postcard.  
How will I receive my winning postcard/postcards?
Once payment has been received through the 32Auctions site, the Secret Postcards will be ready for collection from the RWA from 10am on Tuesday 15 November
Postcards can also be sent by Royal Mail Special Delivery Signed For, insured up to the value of £1000. The charge for this service is £8. Especially large or heavy postcards may incur slightly higher postage fees - this will be indicated on the auction lot. International delivery is also available. Multiple items may be sent together at a slightly reduced fee.  
Insured delivery may be requested in special circumstances by contacting info@rwa.org.uk  
What if I don't have regular access to a computer, or if I'm busy on the night the auction ends? Can I leave a proxy bid?
If you have intermittent access to a computer then you can leave a proxy bid and the computer will bid for you. Please scroll up to read 'How do I bid online?' for more information on proxy bidding. 
Where do the proceeds go?
All proceeds raised by the sale of the cards will go towards supporting the RWA (Registered Charity 1070163) 
Thanks to the fantastic support from donors and from the buyers from last years' Secret Postcard Auction, we've been able to complete the Light & Inspiration capital project and re-open the doors of the RWA.  The building has been transformed and, alongside that, we've worked with some of Bristol's most under-represented communities, both on and offsite. However, with less than 1% of our funding from the public purse and still in the midst of challenging times, we still need your support so that we can continue the valuable work with communities (our funding from the National Lottery Heritage Fund, as part of our Light & Inspiration project comes to an end in November).   
"We're so grateful to all the artists who have been so generous in donating work to support the RWA as a charity. It's great fun trying to guess whose is whose, and whatever your taste or purse, with bids starting at £40 and the chance to snap up a unique artwork that will bring joy for years (and may be worth thousands), please do join in, and dig deep to support us" - Alison Bevan, RWA Director   
Can I make a larger donation?
If you would like to make a larger donation to the RWA, please click here or contact our Head of Development, Kate Foster kate.foster@rwa.org.uk    
Find out more about the RWA's 2022 Secret Postcard Auction and see updates with this year's contributors.
The Secret Postcard Auction is sponsored by Bockingford, St Cuthberts Mill and The Print Co.