Winners of the open submission exhibition, 'Drawn 2017'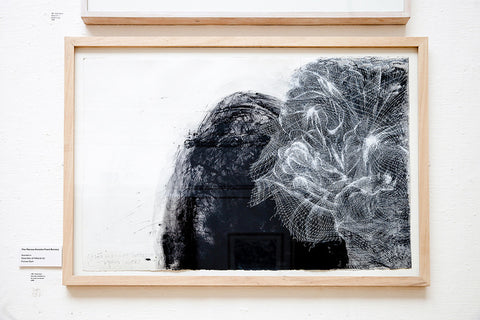 Main image: 'Ghost Nets of Hallsands (iii)' by Frances Gynn
Helen Cobby
Winners of 'Drawn 2017'
Drawn 2017 presents an eclectic mixture of work, from artists, architects, illustrators, film makers and creatives from other disciplines, which explores the concept of drawing and expands our understanding of the medium. Drawing is often thought to be at the centre of creative processes and an integral means of looking at and interpreting the world.
Nearly 1000 drawings were entered for this biannual open submission exhibition by artists from throughout the UK and beyond. A total of 186 works were selected by Martin Clayton, Head of Prints and Drawings at the Royal Collection, Johanna Baring, Director and Curator of The Ingram Collection of Modern British and Contemporary Art and Academicians Peter Randall-Page RA RWA, Sarah Gillespie RWA and Lawrence Nash RWA.
Three prizes have been presented to artists whose submissions were judged according to specific categories and deemed particularly outstanding. We are delighted to announce the recipients of these prizes: Frances Gynn, Sarah Hardwick and Sarah Duncan.
Frances Gynn:
Frances Gynn won the Theresa Knowles Travel Bursary for outstanding and imaginative draughtsmanship. This prize provides her with £1,500 towards creating new art in Italy.
Frances was given this prize for her submission entitled Ghost Nets of Hallsands (iii). This work fuses an imaginative spectacle (verging into abstraction) with intimate knowledge and details of the village Hallsands in Devon, where the artist is from. In this way the work seems to explore human experience of the world, focusing in on a familiar detail and layering it with emotional human interpretation. Thus, the drawing becomes a personal process, a particular way of looking and responding to the world, rather than just a means to an end. Frances herself says, 'Using the drawn line as a 'roaming eye', I observe and selectively record'.
At its most literal the work depicts nets, possibly derelict fishing nets, using white ink and crayon, set over a dense background reminiscent of dark swirling water. This background is a monotype produced from drawing by hand onto stainless steel. The nets appear to be open, with the ends drifting free towards the centre of the composition. This sense of movement is emphasised by the changing density and direction of lines making up the delicate nets. They certainly have a life of their own and even a ghostly quality, which is suggested by their undulating shapes and sense of ethereal luminosity created by the wavering intensity of white marks over a dark backdrop. These marks thus appear both solid and fleeting, offering a play between transparency and opacity, and perhaps presence and absence, which are arguably ghostly characteristics.
Frances completed a BA (Hons) in Fine Art at Exeter University in 2000, after initially studying Graphic Design. Through her art, she explores her interest in suggestions of human presence within nature, conveying this inspiration through representation and/or abstraction. She often layers diluted oil paint and beach tar, and rubs away paint with sandpaper to mimic the sea's wearing away of objects. Frances also takes paint-castings of found objects, which she then incorporates into her paintings.
Sarah Hardwick:
Sarah Hardwick was awarded The Student Prize for her drawing Washpool, which gives her the opportunity to have a month-long exhibition at Hidden's Clifton gallery. Hidden presents both emerging and established artwork from Bristol and beyond alongside design-led homeware. Sarah's drawing, executed in conté pencil, is one of the smaller and subtler works within this year's Drawn. It depicts a silhouetted figure walking away from the viewer along a country path into a luscious woodland area, which is in the village of Chiseldon where Sarah is from. She says, 'To me drawing is a way for me to recreate beautiful and interesting things I see in everyday life. I like to take scenes which would otherwise go unnoticed and pick out and emphasise what I find interesting about them'.
The work is carefully composed to lead the viewer's eye down the path into the heart of the picture. This is partially due to the indication of the horizon line, achieved through a deepening of tonal marks, which creates spatial depth. It is also created by the contrast between the conté-filled, darkened areas of foliage and the blank cream paper conveying the path. This juxtaposition boldly emphasises the vanishing points and use of one-point linear perspective. In this way, what is left out is as important as what is put in.
Interestingly, it is the tone and texture of the conté, rather than pencil lines per se, which creates this image. This makes the drawing appear quite painterly and impressionistic. The rough or spontaneous quality to the work is heightened by the method of its display – the paper is unframed and attached to the wall using artist paper clips that one often associates with holding sketches or studies created outside in situ.
Sarah is 20 years old and in her final year of a Drawing and Print BA at UWE. This is the first competition she has entered. After graduating she hopes to set up her own business, making and selling her drawings on a full-time basis.
Sarah Duncan:
Sarah Duncan is the winner of The Work on Paper Prize. This award presents her with £400 of printing and framing courtesy of Niche Frames in Bristol. Sarah's winning drawing is Steinn, made with crayon and charcoal. 'Steinn' is a cognate with English 'stone'; this work certainly seems to focus in on the textures, gradients and qualities of a rough, stone-like surface. The use of extreme light and shade, the technique of chiaroscuro, serves to heighten the textures and provide an atmosphere of drama. The scale of the stone is impossible to establish due to the way the composition is cropped and denies the viewer of external references to compare with the depicted object. This gives the opportunity for the subject matter to be monumentalised, adding to the drama.
The artist herself says 'I am interested in the forces that have shaped our planet and left their marks and traces upon the landscape. The cyclical nature of landscape creation and erosion is echoed in my drawing, which has become less about the line and more concerned with the nature of layers. By using layers of organic materials- charcoal, graphite, wax and chalk- to build up surfaces over the paper, and eroding portions of these layers through erasing, the drawings echo the creative forces behind the landscapes they represent'.
Sarah is a printmaker who lives and works in Bristol. She originally studied Textile Design and worked for 10 years within the Art Department in feature films. More recently, she completed her MA in Print with Distinction at UWE. Her work is based on the natural world, recently focusing on the cosmos and the sea and inspired by our relationships with the remote and the inaccessible. She aims to embed the humanly experienced physical world into the unimaginable enormity of the cosmos. While sharing the same central aims of science in attempting to make sense of the natural world, she focuses on an emotional and embodied response, and seeks beauty, rather than an intellectual one. Each of her prints are hand-printed using traditional printing methods, such as etching and lithography.
Drawn is sponsored by Fresh Contemporary Art Fair.
All works in the exhibition are available to purchase, including that of the winners.
Our Drawn webpage holds more details: http://www.rwa.org.uk/whats-on/drawn-and-drawing-lab
Gallery