We want to change! Meet RWA Director Alison Bevan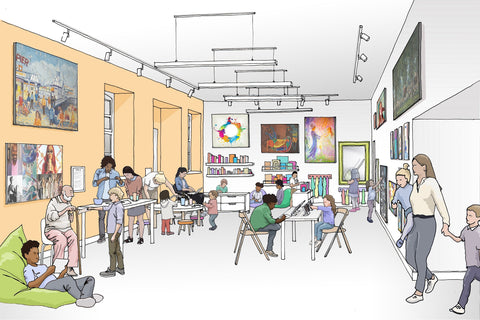 Q&A with Alison Bevan, RWA Director
You joined the RWA as Director in 2013 - what drew you to the role?
Quite simply, I fell in love with the RWA at first sight. It is an exceptionally beautiful gallery, with the most extraordinary history, but it felt like sleeping beauty - SO much potential, but needing life breathed back in. It also had so much else going for it, including a body of amazing artists (our Academicians); a host of talented, dedicated volunteers, and some passionate supporters and advocates. Helping to make it come alive and thrive was a challenge I couldn't resist.
This project is a historic moment for the RWA - what excites you most about it?
It is an extraordinary honour to be at the helm at this moment, and to know that the work we're doing now will contribute to nourishing people's lives with creativity for generations to come.
We know from anecdotal evidence that being made to feel at home in our beautiful, uplifting galleries, surrounded by great art from the past and future, can make an enormous difference to people's wellbeing.
Our wider 'Light & Inspiration' project is making this physically accessible to everyone for the first time by providing new doorways – both literal and psychological – and facilities, including an enormous new lift and 'Changing Places' toilet facility.
This project delivers the final elements to really enhance the visitor experience at the RWA, by providing a beautifully fitted-out and equipped space for everyone, whatever their age, background or physical or emotional needs.
Bristol has a busy art scene, so what will this project do for art visitors in the area?
The RWA is unique not just in Bristol, but in the UK, in being a purpose-built Royal Academy of Art: somewhere that not only exhibits great art, but that also nurtures new talent for the future, and does so using one of the most beautiful exhibition spaces in the country.
Our programme offers the opportunity to encounter internationally important historic masterpieces, in the context of the best of contemporary practice, and to use that as the basis for exploring your own creative talents at your own level.
We aspire to be somewhere that all kinds of people enjoy visiting, and that each and every visitor feels uplifted by the experience. For art lovers, we provide the chance to see truly great art, often brought to the region for the first time, while for those who don't consider themselves 'arty', we offer a relaxed, welcoming space with something for everyone, whatever their tastes or knowledge.
Why should people donate to this project?
This project is your chance to make a real difference. Every single pound raised will enable us to do something more to ensure that everyone, including those with extreme wellbeing challenges, can benefit from our extraordinary building and the power of creativity.
We're grateful to everyone who has got us this far. There are just 14 days left to raise the remaining 42% needed to create an art space for all – thank you for spreading the word.
#RWAArtforAll