Strange Worlds and the RWA Drawing School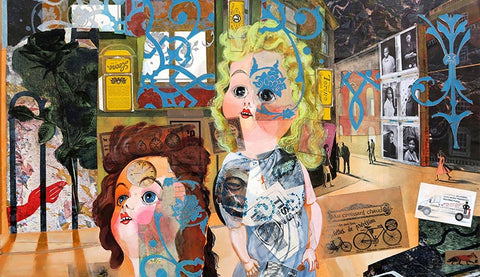 During the 1960's, Angela Carter lived, worked and wrote in Bristol. During this time, she completed some short art courses at the West of England College of Art, known today as the RWA.
Strange Worlds: The Vision of Angela Carter celebrates the work and imagination of this enormously important author, 25 years after death. The exhibition also highlights Carter's love of visual art, how she referenced historic works of art throughout her writing, and the profound effect her pioneering imaginative landscape has had on numerous contemporary artists.
To mark the exhibition and, in particular, to celebrate Angela Carter's own creative endeavors in the RWA building, the RWA Drawing School offers new courses and workshops that are inspired by Angela Carter's novels and the themes found throughout her work.
Drawing Circus Performers at Circomedia
Saturday 25 March, 11.30am - 4.30pm, £75
In Strange Worlds, circuses, clowns and acrobats appear throughout. In Marc Chagall's The Blue Circus (1887-1985) a female trapeze artist twists amidst a sea of blue, bringing to mind Angela Carter's fantastical character Fevvers from Nights at the Circus.
The RWA Drawing School is giving you the chance to draw dynamic circus poses, modelled by trained circus performers, at Bristol's own Circomedia. With instruction and guidance, the sessions will teach you how to capture movement, quickly and intuitively, while describing the mood and essence of a pose.
Image and Magic
Friday 3 February, 10am - 4pm, £55
Inspired by the surreal and fantastic characters, creatures and worlds of Angela Carter's writing, participants of this exciting workshop will combine collage, drawing and painting to create fantastic visual narratives, drawn straight from the imagination. In the morning there will be short games and exercises followed by an opportunity to make a more finished piece after lunch.
Drawing On...Within the Realm of the Fairy Tale
Saturday 11 March, 10.30am - 4.30pm, Sunday 12 March, 11am - 4pm, £145
This special drawing workshop will explore the magic and darkness of fairy tales - themes found through Angela Carter's work. Carter would refer to and re-imagine classic fairytales in her work, imbuing the eerie forests, enchanted beasts and predatory wolves of children's literature with new and sinister meanings.
This workshop will take students on an imaginative exploration of archetypal fairy tale characters through the medium of drawing. The session will be led by artist Sarah Woodfine, whose own artwork is exhibited in Strange Worlds. Sarah won the Jerwood Drawing prize in 2004 and her work is in various public and private collections including the Victoria and Albert Museum, London.