Stay at Home Series: Terry Flaxton RWA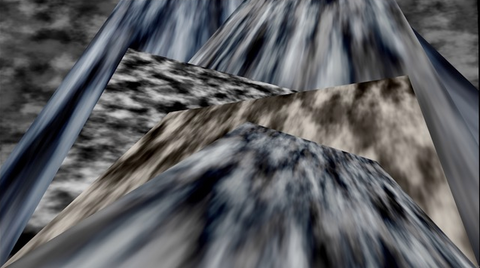 ​We asked our artists to share what they are working on and how they're are keeping busy during this unprecedented time. Here, Academician Terry Flaxton answers our questions:
What are you currently working on?
I have several major collections of work that I've been working on for for about two years now with composers and performers and I have several other pieces on the go.
Under the title: The Human Gaze in an Age of Quantum Entanglement this represents a large scale international project of roughly 2 hours duration which will take place in two locations taking one hour each. The two locations are The Cathedral of St John the Divine in New York and a Cathedral in the UK (I have good relations with several but Bristol Cathedral is favourite).
So the first part is called Digital Requiem (7 parts) and the second part is called The Laniakean Paradigm (also 7 parts)
The concept is to have A Digital Requiem (60 minutes) performed in Bristol Cathedral by live musicians and composers conducting the 7 parts to my moving image track - this will have a live audience and also be broadcast in to St John the Divine in New York
1. Digital Requiem
This requiem both laments and celebrates the passing of the digital age and follows traditional requiem form. I have released one of these on the digital platform sedition.art and you can see the Sanctus here https://www.seditionart.com/terry-flaxton/sanctus
After a 45 minute interval The Laniakean Paradigm will be performed (60 minutes) by live performers and composers conducting to my image track to a live audience in the Cathedral of St John the Divine in New York and this will be broadcast to Bristol Cathedral.
2. The Laniakean Paradigm
A Paradigm is both a concept and an invocation and welcome of the Quantum Age. This seven part work offers another symphonic form to the musical canon. Laniakea is the name given by astrophysicists to the largest mapped portion of our local universe so far - it is so large that the gravity waves of the big bang can be identified by the creation of matter into galactic cluster of family groups of galaxies. In the quantum realm every electron in the universe is connected with every other electron universe wide with no gap in time - the quantum realm is also a place where our minds are at play. Laniakea is the Hawaiian word for 'Immeasurable Heaven'. You can see part 5 of Paradigm here (the soundtrack of which will be rewritten for both the 'concert and the eventual online release of the works): https://www.seditionart.com/terry-flaxton/the-consciousness-of-trees
So each work will appear in one location and be received in the other as a broadcast event.
Another 7 part series of pieces that I am working on is called Personal Fictions and references prior artists and their works such as Bridget Riley, Primo Levi, JG Ballard and St Augustine. These together represent one collection in total around 42 minutes of new work.
I'm also working on a major new long form piece of 30 minutes to respond to new younger artists such as Hito Stereyl - which itself is a debate on the subject of objective, abstract and non-objective art - but this 'debate' will be made in the moving mage form which means that whereas one painting or print is literally one image - I set myself the problem of maintaining creativity through the transforms that occur between one image and 25 frames (compositions) or a second later. This makes references to both Cartier Bresson's Definitive moment in photography, Conrad Hall's Photographic Moment in Cinematography and any number of theoretical tracts around the production of art from Clark & Gombrich, through McLuhan & Chomsky, through Baudrillard & Virillo to Deleuze & Žižek (and always back to Chomsky). The point of making an intellectual inquiry as the basis for a piece of abstraction is to recognise that when thinking formally one is thinking in the same mind as the painter, the musician, the theorist and so on - and the argument made is that perhaps creative activity occurs in a completely non-linguistic version of that same space.
Tips to stay active, creative and busy during this period
I'm afraid I can't imagine not making work - which keeps me active, creative and busy during this period. But for human contact use Zoom to speak with others in groups.
What are you most looking forward to?
At the moment nothing other than seeing people again and also travelling.
Has being at home made you appreciate some things more than usual? What are these things?
I always like cooking as a grounding gesture - and walking.
Above image: from Personal Fictions: Cloud Sculptures over the Atacama Desert. Further essays by Terry can be read here.