Stay at Home Series: Ruth Piper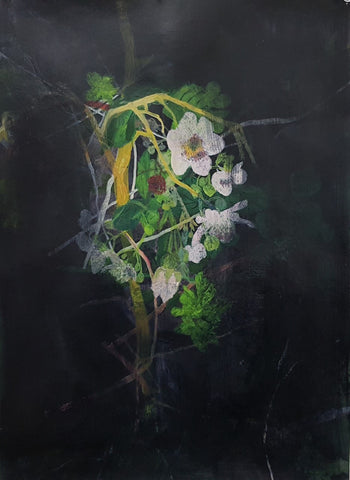 We asked our artists to share what they are working on and how they're are keeping busy during this unprecedented time. Here, Artist Network member Ruth Piper answers our questions:
What are you currently working on?
I have set up my 'Home Studio' and will continue to work on my series of paintings under the working title 'Emblems of Hope'. Beginning with small works on paper my first will be my entries for the Secret Postcard Auction.
Tips to stay active, creative and busy during this period
I intend to follow a routine of looking at and researching artists and galleries of particular interest. Today (Friday 27 March) I have chosen Carlos Zapata, represented by Anima Mundi. Then paint until lunchtime.
After lunch I might go in the garden for a while or go for a walk (if allowed) and weather permitting
More painting.
Then some work for Centrespace, keeping in touch with colleagues and artists who have bookings in the gallery later in the year when the epidemic has passed.
Late afternoon and evening. I am learning Spanish so will spend an hour of study and revision.
And keep in touch with family members & friends.
What are you most looking forward to?
I am looking forward to deepening my painting practice at home and having more time time to read and be in the garden.
Has being at home made you appreciate some things more than usual? What are these things?
I enjoy being at home especially with the 'Lockdown' as everything has slowed down. I hear my garden coming alive, my neighbours and their children and my husband working downstairs and talking on the phone. Somehow we are all closer together now. Before I only wanted to get to my studio which is a bus ride away but now I have my paints at home, I wake up and I am already in my studio. This is the best thing so far. I feel very fortunate.
Below image: French Street, acrylic on canvas, 61 x 114cm
Gallery