So, how does the Secret Postcard Auction work?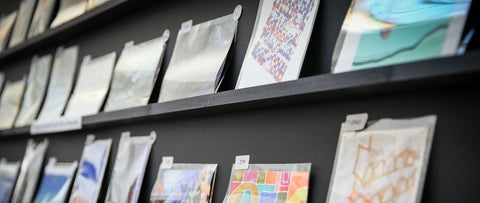 The Secret Postcards are displayed at the RWA. When bids are placed, they are displayed alongside the relevant card.
Attending the event gives you the best possible chance of securing the postcard(s) you have your eye on. Winning bidders are also able to pay for, and take home, their postcards on the night itself.
Ten of the postcards are selected to go into a live auction, conducted by Andrew Morgan. These are not necessarily the ten biggest names or those with the highest bids, but are those that have had the most interest in them beforehand. Anyone who has placed a bid on any of these ten cards will be contacted to let them know that they're amongst the live lots and if they are unable to attend, we can offer a telephone bidding service.
All of the remaining cards will then be sold by silent (but public) bids during the evening: each increased bid is displayed alongside its card so that everyone can see how much more they need to bid in order to win their chosen artwork - bids start at £40 and must be in minimum £5 increments. There is no limit on how many bids each postcard can receive or how many each bidder can make, so if someone outbids you, feel free to increase your bid to outbid them!
We do not publicise the winning bid amounts for each card, but the week after the auction all postcards will be viewable on rwa.org.uk, and will include the artists' names, so you can see if you were right in your hunch about whose was whose!
All proceeds raised by the sale of the cards will go towards supporting the RWA (Registered Charity 1070163), which receives only 2% of its operating costs from the public purse. Last year's auction enabled us to support and encourage life-enhancing engagement with art for people of all backgrounds and ages.
This year we will be accepting bids through an online auction in the run up to the Secret Postcard Auction.
We are grateful for the support of St Cuthberts Mill, The Print Company and Hollis Morgan Estate Agents and Auctioneers.