RWA Shop: Spotlight on Simon Tozer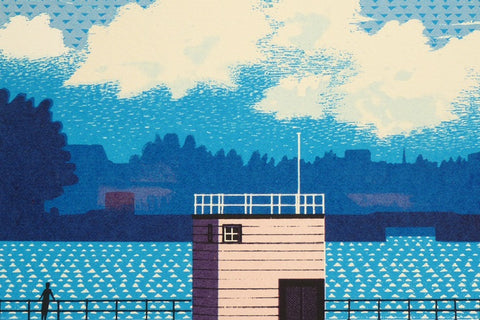 Each month Retail Manager Sarah Hickie will be profiling a talented artist, or maker, whose work is available for sale in the RWA Shop. This month the spotlight is on Simon Tozer.
The subjects of Simon's screen prints include animals, buildings, ships, and machines, and occasionally people. Simon's images of animals are usually drawn from his imagination, with bears and cows featuring in particular. These prints are often humorous, sometimes playing on the similarities and differences between people and animals, and sometimes using an animal to represent a state of mind.
"From the age of eight my family lived in Devon, in a small hamlet where friends were a car drive away, so in the evenings was mostly at home, and spending a lot of time drawing. Drawing was an escape into an imaginary world, particularly in my teenage years. I was interested in fantasy art and science fiction book covers. I liked pictures that told a narrative, and am still interested in storytelling in my own work, but visual storytelling is different from using words, it's not linear, and it's as much about how the image makes you feel as trying to understand what is happening."
"My most recent pictures are seascapes; the subjects clouds, boats and waves, and are a departure from the animal prints. When I make a picture I often feel as if I am setting out to sea, with my destination uncertain. Clouds are indifferent to us, which is oddly reassuring. They range freely, and don't respect any borders. My clouds are peculiar, a bit like UFO's. But like the animals they don't speak, so what they want - it's not entirely clear!"
Simon studied painting at Portsmouth Polytechnic, and later took up printmaking while living in Oxford. He became interested in screen print when completing an MA in Print at Chelsea College of Art in 1990, where he received the British Institution Fund award for printmaking. In London he worked for some years as a scenic painter and muralist, before moving to Bristol in 2002. He now works in a studio shared with another screen printer, at the Centrespace workshops near the floating harbour.