Pewter Casting Workshop with Roma Children and Young People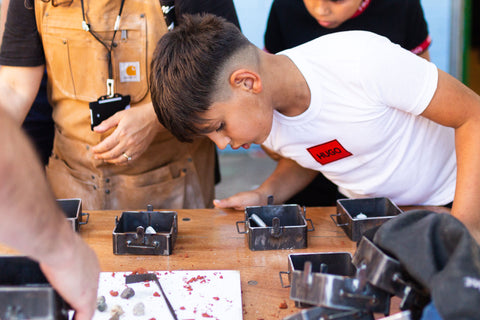 The RWA has been working with Youth Workers from LPW and Eastside Community Trust to deliver monthly artist-led creative activities for Roma children and young people at Easton Community Centre. 
To coincide with the Summer Exhibition- Earth: Digging Deep in British Art 1781-2022 exhibition, a specialist workshop took place inspired by the earths geological structure, it's molten core and the natural materials it provides. With the guidance of expert metal worker Wez Jacobs, the group of young people used specialist tools and equipment to create pewter castings of rocks and stones, 
Scroll down to follow the process of creating these small and fascinating sculptures! 
A Step by Step guide of the Pewter Casting Process 
Did you know? Pewter melts at around 400 degrees C? For this project a furnace was not required, just a powerful blowtorch and ladle. Wez is used to running furnaces that get up to 1500 degrees C to melt molten iron! Speaking about the workshop Wez said:
For young people, it's exciting to learn about tools and then be given responsibility to use them. Not many people get to see molten metal pouring into a mould they have made, creating their own small sculpture.
This workshop shares inspiration with the artist Kabir Hussain, who uses the technique of bronze casting in his works. His two pieces in the Earth Exhibition are Stingray Sugar Beet, and Stone 1 through to 4. These pieces look like rocks and natural forms and conceptually tie in with themes about the co-existence of humans and nature.
This special workshop enabled everyone involved to look more closely in wonder at the materials the earth is made of. 
Thanks to the Youth Workers from LPW, Eastside Community Trust, Wez Jacobs, Isis Whiteaway and Helen Jacobs, Head of Leaning and Participation at the RWA. Check back on the blog to keep up to date with more projects like this. 
Photography: Lisa Whiting