Past President embarks on an artistic, Arctic adventure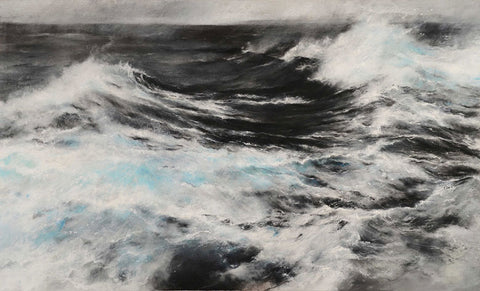 We bid bon voyage to former President Janette Kerr who sets off on an artistic, Arctic adventure this October.
Janette has been selected to participate in The Arctic Circle - an annual series of art and science expeditions to the High Arctic. Known for her expressive paintings of wild seas, Janette will document ice sheets and glaciers while aboard the tall ship SV Antigua with 19 other international innovators, explorers and artists.
Janette said: "This is an absolutely amazing opportunity; my intention is to make a body of work reflecting the immersive experience of observing a changing Arctic landscape during the three-week expedition."
"These 'observations' of the Svalbard region will be documented almost as a captain's log book might, by writing, mapping, drawing, painting, and filming traces of movement and change, as well as responding to methodology and equipment employed to measure/record data by scientists working alongside me."
For the last few years Janette has been studying the sea, recording the movement of water and light against rock and weeds to form the basis of a series of drawings and paintings.
She said: "I want to incorporate materials found on site - ice, earth, ash, dust, sea water - with materials brought with me - graphite, watercolour, charcoal, chalks, ink, marble dust, film, paper and gampi tissue."
Dr Kerr also plans to launch kites and balloons that hold cameras, and take aerial footage of the changing landscape. SHe also aims to pay homage to Salomon August Andrée, an explorer who died while leading an attempt to reach the Geographic North Pole by hydrogen balloon in 1897.
We wish Janette the best of luck and look forward to sharing her findings with you next year!