New Artist Network Members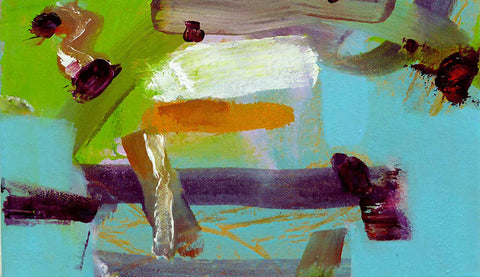 We are delighted to welcome a new group of artists to our Artist Network scheme this January. They are:
Hannah's work is detailed and humorous. Minute slivers of Japanese paper form intricate, eerie landscapes; old tobacco tins house diorama-like scenes; the holes of a button become ghostly eyes staring out of a tiny portrait. Drawing inspiration from literature, her dreams, medieval paintings, Victorian children's book illustrations and many other sources, Hannah's playfully dark tone, blends the surreal and the melancholy.
Niamh's work is concerned with representing the experience of landscape through colourful abstract painting. She uses a variety of unusual techniques, such as printing with Clingfilm, fabric, clothes, and other found objects. For the past ten years Niamh has been visiting Grenada in the West Indies. The Caribbean colours have seeped into her work - the turquoise blues and greens of the sea, the brightly coloured wildlife on land and under the sea, and the vividly painted houses and boats.
​Nina uses raw materials that are low tech and domestic; rope, wool, string, fabric, paper and found objects. Her practice consists of manipulating and subverting their former use. Exploring the encountered object she allows her instinctive way of working to lead the process, deconstructing in order to reconstruct.
Terri's semi-abstract, mixed media paintings are made in the studio using her studies and notes as a reference point. The rugged, untamed landscapes of Cornwall claim her attention. The scars left by Tin mining and the subsequent changes as nature reclaims these former industrial sites, are a rich source of research and inspiration. The building up of strata beneath the surface of the land, through the natural processes of geology and archaeology, is paralleled in the layering process in her work.
Clare is a fine artist with a passion for painting. Her work is deeply connected with a sense of place, taking influence from the idea of liminal space in landscape. The locations she chooses and the focus of her attention is highly selective, personal and resonant of individual landscape features and associated thoughts, emotions and reflections.
The beach and coastline are major inspirations in Louise's work. She endeavours to capture the memories of walks, the dramatic cliffs or the sound of crows overhead. Back in the studio these elements are sketched and developed into monoprints as she enjoys the spontaneity of working this way. Additional images are added to the monoprint from lino print blocks or collographs.
Patricia's obsession as an artist is catching a very simple form or line, then enhancing it with colour. Sometimes these are juxtapositions that she hopes suggest contradictions of strength and fragility, stability and precariousness – like the relationships between human beings. But also of rest and activity, grace and motion, that give an object a lively presence and a sense of individual character.