Coming soon at the RWA: Jem Southam - A Bend In The River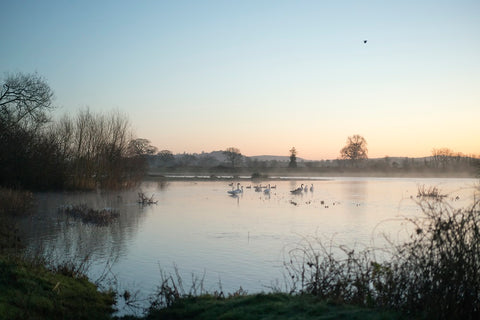 Internationally-acclaimed photographic artist Jem Southam will be exhibiting at the RWA from 28 January, in a show running parallel with the RWA Photo Open. Here he explains the significance of the stunning series
A Bend in the River
Jem Southam: A Bend in the River displays Bristol-born Jem Southam's series of images taken from a riverbank where he became lost in contemplation one December evening in 2015. 
Southam was looking for a way to begin making digital pictures. He had a broken arm, so was having to take pictures one handed, using the extreme exposure values of a new medium for him, a Sony camera.
He returned to the same location over the next five years to photograph the ever-changing surface of the water, trees waving in the breeze, and ducks gliding across the river. What began as a passing digital photo led to a powerful ongoing series of deeply affecting photography.
7 Swans - Jem Southam, A bend in the river © Jem Southam.
The gathering of swans became a particular inspiration leading to the second part of the series Swan Winter, which draws on northern European myth and Scandinavian folklore. Southam began heading to the river at dawn in search of the groups of swans. He captures these dimly lit scenes with a haunting other-worldly quality, illuminating what is barely visible to the naked eye.
Southam explains: "It all began one winter evening five years ago, when I spent an hour or so one December evening sitting by the river watching dusk gather. I became lost in the contemplation of the scene in front of me, the rivers ever-changing surface, the passing clouds, the plants and trees waving in the breeze – when three mallard ducks pushed out across the stream. I raised my small Sony camera and took a picture… one moment in the flow of time.
"The structure of this work is in two parts, or movements. The first the arrival at dusk, the second the gathering and departure at dawn. In my own imagination, the work I call 'Swan Winter' draws on long and deep northern European mythic narratives relating to swans, which surface in Scandinavian folklore and works such as 'Swan Lake'. 
Bend in the river 5  - Jem Southam, A bend in the river © Jem Southam.
A Bend in the River is shown in full together with selected works from other series created at the same riverbank over the following years including The Wintry Heavens, Forty Dawns and The Flooded Pool. 
Interspersed across Southam's photographs is a curated selection of artworks that have inspired him, including pieces by JMW Turner, John Constable and Thomas Bewick, together with illustrators of popular natural history books, and artists who have worked for publications like Ladybird and Shell such as C.F. Tunnicliffe and John Leigh-Pemberton.
The Flooded Pool - Jem Southam, A bend in the river © Jem Southam.
A Bend in the River is presented alongside the RWA Photo Open (28 January - 1 May 23). 
Photo top: Dawn 25 Dec 2020 from The Flooded Pool - Jem Southam, A bend in the river © Jem Southam.