Introducing our new Academicians for 2020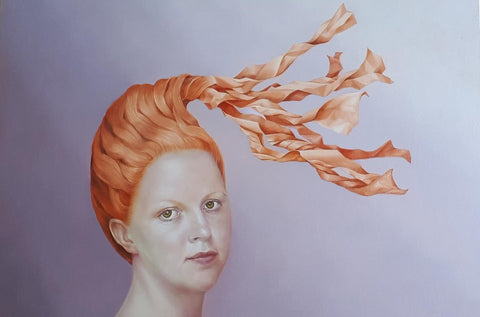 The votes have been counted, a year-long process has come to an end and we are very pleased to announce this year's new Academicians:
'I came late to painting, having first pursued a career in the fashion industry. With an opportunity to study fine art as a mature student however, I gradually forged a new path. We are surrounded by contrasts between the organic and the manufactured, the rural and the urban. These surprising and often unnoticed juxtapositions inspire me. This becomes manifest in my work with an exploration of dissimilar line, colour and form on the canvas. Picasso was quoted as having said, "It took me four years to paint like Raphael but a lifetime to paint like a child". I try to encourage a childlike open-minded approach towards the creative process and my preferred choice of media (industrial floor resin) and its inherently unpredictable nature helps to enhance this fluid mind-state. The painting process always involves focussed working but maintaining the freshness, vitality, energy and integrity of the original expression is important to me. I am constantly surprised by paint and its possibilities.'
Amanda Chambers is a multi-disciplinary fine artist working primarily in three dimensions, particularly in clay. Her practice incorporates drawing and photographic elements and has evolved to include musical composition. Her work often examines our proximity to the past, exploring themes of conflict and socio-political narratives. Since 2017 she has travelled and worked in Japan where she has undertaken residencies at the Shigaraki Ceramic Cultural Park. She will return to Shigaraki for a three month residency in 2020.
Her work has been exhibited, published and commissioned internationally and she has regularly worked with museum collections including the Natural History Museum, Bodleian Library and the Britten and Pears Foundation. Amanda regularly gives talks about her practice and she is currently a Guest Lecturer at the University of the West of England (UWE).
Amanda is a Fellow of the Royal Society of Arts (FRSA) and an elected member of the Royal Society of Sculptors.
The direct gaze can be compelling, offering frank emotional engagement, but this vital physical connection between us is increasingly absent in our digital age. My portraits are intended to convey something of the mystery implicit in facial expressions, and engage the viewer in speculation about the subject's origins and relevance in the present day. The focus of my work is slowly shifting as I continue to explore the possibilities of expressing the complexity of human interactions within the context of figurative painting. In more recent painting I hope to express the tensions and emotional implications of the way we position ourselves physically in relation to others.
Patricia Volk is a Fellow of the Royal Society of Sculptors, born in Belfast and works from a studio in Wiltshire.
'My obsession as an artist is catching a very simple form or line, then enhancing it with colour. Sometimes these are juxtapositions that I hope suggest contradictions of strength and fragility, stability and precariousness – like the relationships between human beings. But also of rest and activity, grace and motion, that give an object a lively presence and a sense of individual character. But really all this is open to the eye of the beholder. I never want to be too prescriptive, and in saying this much I've probably said too much."
We are delighted to welcome Becky, Amanda, Rosalind and Patricia and hope that they will become familiar faces behind the scenes at the RWA in the coming months and years.
The deadline for applications to become an Academician this year is Monday 2 March.