Interview: Curator James Russell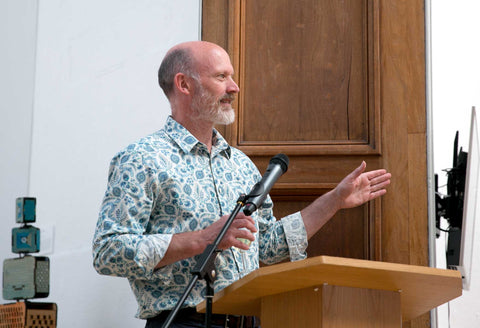 James Russell is an author, art historian and curator who specialises in Modern British Art. James curated In Relation: Nine Couples who Transformed Modern British Art which is open now until 9 September 2018. He also wrote the accompanying catalogue, which is available to buy from the RWA Shop. James will be leading an Art History Day School on Saturday 8 September 2018.
RWA: How did the idea for this exhibition first come about?
JR: The RWA has an excellent collection of twentieth century British art and I thought it would make a good starting point for an exhibition. There are particularly good works by Mary Fedden and Julian Trevelyan, and by Duncan Grant and Vanessa Bell, so it seemed a good opportunity to explore the subject of personal relationships and their impact on twentieth century British art. I've curated several large-scale exhibitions before, including 'Ravilious' (Dulwich Picture Gallery, 2015) and 'Edward Bawden' (DPG 2018) but this is a new kind of venture for me too - it's exciting!
RWA: Why is this an important exhibition?
JR: The exhibition brings together some of the most significant artists and designers who worked in twentieth century Britain. That in itself is pretty cool, I think. But what really matters here is that we're looking at the subject in a new way. We know that artists are influenced by their illustrious predecessors and by new ideas, but what happens when two artists share their everyday life together? How is the work and career of each one affected by the other? Because these relationships are often undocumented - you don't write letters to someone you live with - it's easy to overlook them, yet it is clear that in some cases the course of British art in the twentieth century was significantly influenced by the romantic entanglements of these artists. This exhibition gives people a chance to look at pictures by, say, Duncan Grant and Vanessa Bell, and think about the similarities and differences.
RWA: What are you looking forward to most about the exhibition?
JR: I'm looking forward to seeing the magnificent galleries at the RWA filled with beautiful paintings, prints and sculptures. I'm particularly looking forward to seeing the artworks made by each couple side by side, because this is a new way of looking at modern British art and, I hope, one that people will find intriguing and inspiring. When I curate exhibitions I always try to include one or two surprises - objects or artworks that will make people stop and stare - and this is the case here. But what I'm most looking forward to is sharing with art lovers from Bristol all the lovely things that we have managed to bring together.

RWA: Which is your favourite work/s in the show/s?

JR: I'm not sure it's fair to name a favourite, but there are treats in store for visitors. Fans of Eric Ravilious will enjoy 'Painted Dresser', a watercolour that has never been shown publicly before, and there's also an opportunity to view rarely seen work by his wife Tirzah Garwood. There are some cracking loans from Tate and the National Portrait Gallery, including a lovely portrait of Vanessa Bell by Duncan Grant and the gorgeous double portrait '1933 St Remy' by Ben Nicholson. Two beautiful Barbara Hepworth sculptures, rare early works by Mary Fedden and even a woman's wedding suit made from block-printed fabric by celebrated 1930s designers Barron and Larcher.
RWA: Which artist do you most admire from the show/s?
JR: Different artists are admirable in different ways. Each of the 18 artists was in some sense a pioneer, and they all enjoyed time in the limelight. They all struggled at times, too. Laura Knight and Dod Procter overcame institutional sexism - including a ban on women attending life classes - to achieve incredible success. Their artist husbands, Harold and Ernest, then had to cope with their fame, which they both did admirably. I love the sheer bravado of Roger Hilton's work and his courage in pushing abstraction to its limits, but in a way I admire Rose Hilton more, because she overcame so much to find success - and her work is so warm and colourful. I've devoted much of the last ten years to researching Eric Ravilious, so I certainly admire him, but I love Tirzah Garwood's work too. And so it goes on!

RWA: What is your view of the RWA?
JR: I've been involved with the RWA in one way or another for almost ten years and I am a massive fan. It's one of the best medium-sized exhibition venues in the country, and in Alison Bevan it has one of the best directors. With very little public funding, the RWA maintains an outstanding exhibition and education programme, and has built up tremendous good will in Bristol and beyond. At a time when many publicly-funded institutions are struggling, the RWA should be held up as a model of what can be achieved by an optimistic, hard-working and inventive team.