The History Behind our Walter Crane Lunettes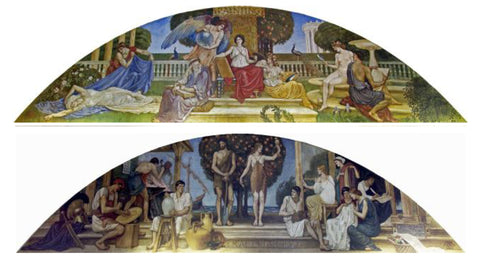 Today marks the first Summer After Hours event and we couldn't think of a better day to celebrate. Why? Because it's Walter Crane's birthday - the artist behind our incredible lunettes situated above our marble staircase and landing.
In this blog post we're going to take a closer look at our lunettes, exploring the history and themes that inspired this incredible series of works.
About the Artist
Walter Crane (1845-1915) was an English illustrator and designer, well known for his children's book illustrations and Art Nouveau textiles and wallpapers. In 1888 Crane founded the Arts and Crafts Exhibition Society. The Lunettes at RWA were Crane's last major work before his death in 1915.
The History Behind the Lunettes
The Walter Crane lunettes were commissioned as part of a programme of refurbishment that took place between 1911 and 1913. In 1913 the Bristol Times and Mirror reported that Crane (1845-1915) had been awarded the commission out of twenty eight entries, judged by professors at the Royal College of Art. When George V visited to reopen the galleries and bestow royal patronage in 1913, only two lunettes representing Painting and Craftsmanship were completed. Two additional lunettes representing Architecture and Sculpture lunettes were finished shortly after. The lunettes were the last major works Crane was to complete before his death in 1915. In 2002, the lunettes were restored to their former glory after suffering water damage with funds raised by the Millennium Appeal.
Artistic Themes
Each lunette represents an artistic discipline: painting, craftsmanship, architecture and sculpture. These are the 'four pillars' of the RWA.
Painting: The figure sits upon an antique throne under a fleur-de-lys brocaded canopy, the symbolic flower of art. She holds a canvas panel, pallet and brushes. The winged youth holds the Sphere of Imagination, while the female at her feet holds the Mirror of Nature. The ancient man is Tradition, with the history of painting on his knees. The nude female on the fountain is Truth. Crane intended the scene to be suggestive of the 'brilliant and beautiful home of paintings: Italy.
Craftsmanship: The figures are meant to indicate the importance of the art and crafts dependence on productive labour; Adam digs whilse Eve spins. Smiths, potters, weavers and embroiderers work in Grecian garments while the prow of a ship alludes to Bristol harbour.
Architecture: Crane has altered the composition of architecture. Figures enter the lunette by ladders in each corner, contributing to the Doric columns that are being constructed.
Sculpture: The personification of sculpture is attended by a winged figure presenting her with a laurel wreath. The onlookers, and Sculpture herself, seem to be mourning. It has been suggested that this refers to Crane's own awareness of his physical decay at the time of painting.