Friends Are Showing: Artworks at the RWA 168 Open (part 3)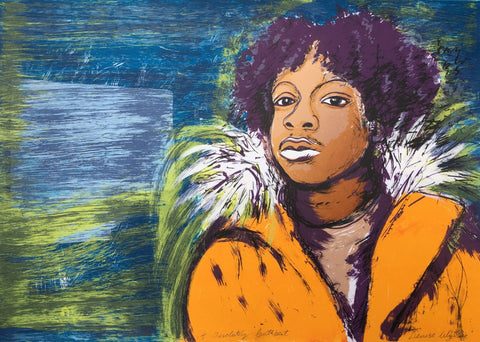 We are delighted to say that the RWA is reopening from Saturday 17 April - Sunday 9 May 2021. Book tickets for the 168 Annual Open Exhibition HERE
While we have been closed all artworks have been available for purchase online HERE and you can still do this until 9 May
We invited some of the Friends featuring in the RWA's 168 Open exhibition to talk about their selected work, as well as about other recent works they've completed and the effect of the pandemic on their art.
The 168 Open has been an online exhibition to date – though it's hoped that the gallery doors will open on 17 May when lockdown restrictions ease. The artworks can all be seen – and purchased –
 

on the RWA website.

Interviews compiled by Laurel Smart and Sue Quirk. See Part 1 here and Part 2 here.
---
Angie Broome
Fichi d'India, Mondello

 

(Acrylic on canvas. 61cm high x 76cm wide. £475
 

Buy here)
"This was painted after one of my many visits to my sister in Sicily. It typifies how I like to work, I visit a place many times and get to know it and absorb its impression on me. Then I make a work that is slightly abstracted but which for me contains the essence of the place.
"I am attracted to bright colours and shapes and the prickly pears contain so much of Sicily. They are used for making jam, ice cream and even cough syrup by those who know. When they are harvested they are often displayed on small vans (it used to be the old Sicilian carts that I remember as a child) with beautiful coloured paper around them. You do not need to know any of this to enjoy the exuberance of the painting but hopefully it will remind you of happy, carefree, sun-filled holidays!"
Angie on her recent work…
"I have been deeply affected by the last year and have not been able to produce any work in my usual manner. However, I started lockdown last year by using my sketchbooks which now include a lot of drawings of my husband reading and falling asleep at close quarters and a lot of random thoughts which may come into use later. I then broke my right wrist and I discovered disappointingly how right handed I am. Coupled with the other restrictions of Covid that put paid to going drawing outside. (I used go to Tyntesfield on a regular basis, for example). I am hoping now as I have also moved to start again in every way.
"The selection of Fichi d' India encourages me to paint more, rather than to print which is fortunate as cutting a block needs strength and demands pressure on my wrist which I don't have at the moment."
---
Denise Ballard Wyllie
Absolutely Cuthbert

 

(Mono-print Screenprint from a series. 50 x 70cm.
Framed £420 Unframed £320
 

Buy here)
"Absolutely Cuthbert is a contemporary portrait series of a fellow creative and young fashion designer. My intention in the artwork is to capture Cuthbert's expression and his multifaceted character. For this project I was able to create a series of different monoprints using many hand-drawn stencils which I screenprinted in translucent layers of ink. Cuthbert is portrayed here in brown, orange, purple and blue whilst in other prints in the series his face is blue, green, gold, white and pink. Some prints include patterns such as falling blossom and 'The Day of the Dead' skulls. All of these versions evoke different moods that give a more complete idea of a person's character."
Denise on her recent work…
"A recent piece is another artwork from the same series called 'Cuthbert: Japan Sakura'. In this version Cuthbert's 'geisha white' face jumps forward from the subtle tones of the pink cherry blossom that wafts in the breeze. This is directly influenced from my art travels around Japan in 2017 – 2018, when I made paintings and exhibited there. 
"My creative year ahead looks exciting as I will be painting outside this spring. I have been invited to take part in exhibitions in two museums in Portugal and at The Möhkönvirta Contemporary Art Museum in Finland. I'm looking forward to hosting my Annual Open Studio again for the 4th year, as I'm a printmaker in the Fête de l'estampe European printmakers' festival."
https://www.wyllieohagan.com/ 
Instagram @artist_denise_wyllie
---
Katy Hallett
Black Vortex

 

(timber dowel, stained. 56cm x 66cm. £2000 Buy here)
"Black Vortex evolved over many months of experimentation with a waste shipment of 2000 1" diameter hardwood Ramin dowel.  It is a real treasure to work freely with so much material.  It is constructed around a tight cylindrical space.  The dowel is pushed to its limits, fixed at one end, with oblique cuts creating a rhythmical, rope-like, dark interior in opposition to the irregular, sharp, exploding outside edges. The intention, by restricting the inner cylinder, is that the rest of the form dictates its own irregular structure."
Katy on her recent work…
"'Stick Stack' (below) also using 1" diameter Ramin dowel, is laid out within a confined square plan and stacked up to form a tight column, taller than a human.  At each layer the sticks are laid randomly, nonetheless cut precisely at different angles to fit the square. Somehow the finished column evokes a sense of movement and speed. 
I have been using 4 x 2" timber off-cuts gleaned from building sites which are generally free. I use left-over material not through lack of money but to raise questions about the value of an art object.  I repurpose unprocessed repeated elements to generate humorous quasi-domestic artefacts with an echo of a universal ordinariness. 
I want the repeated elements to be restrained within a rigid concept while at the same time allowing the material a degree of autonomy, to break away and reveal its own character.  As with the concomitant effect, a slight deviation can lead to unpredictable effects further down the line. This raises questions about how we humans manage to coexist within so many variables. 
Currently I'm using stacks of letters that may or may not form recognisable words to challenge how familiar shapes are viewed and interpreted.  Also, I'm using dyed cloth suspended in woodland at the mercy of the elements to amplify elemental movement and create an alternative canopy. I'm not yet sure where these will lead."
www.katyhallett.com
Instagram @katy_hallett_artist
---
Toni Cogdell
Wing and Prayer (Ink, Acrylic and Collage on paper. 21cm x 15cm framed. £400
 

Buy here)
"'Wing and Prayer' is a work on paper that runs alongside my canvas paintings. Light was important in this piece, and a simplicity of colour to really push the translucency and form, but unplanned, as all my paintings are, it was more of an intuitive process over many layers, obscuring the figure then bringing it back, trying to find a balance between physicality and space, the body and emotion.
"With layers of paint and collage I tried to open the figure out, to become part of the space around it, suggesting an inner/outer sensation rather than just physical presence and likeness.
I was thrilled to have 'Wing and Prayer' selected for the 168th RWA Open and delighted with where it has been hung – grouped with larger, abstract works giving it real space, and opportunity for the more abstracted and painterly qualities to come through, rather than just focusing on the figurative element."
Toni on her recent work…
"'Mantra' is one of my most recently completed paintings. My work sits somewhere between figuration and abstraction, trying to paint 'us' from the inside out; memory, connection, our experience of living and being. These themes and goals seem large and intangible when thinking about them but at the canvas I just follow sensation and intuition, responding to the marks, words and forms I make, and everything seems to rise up from below the surface, from the personal to the universal. 
"I have been busy working in my home studio throughout the lockdowns and I've been able to push more deeply into this, letting go and embracing wherever my work wants to go."
www.toni-art.co.uk
Instagram: @toni.cogdell
If you are a Friend exhibiting in the 168 Open and would like to be included in a future post please contact laurel.smart@blueyonder.co.uk  
---
The Friends of the RWA is an independent charity that supports the Royal West of England Academy, Bristol's first art gallery. 
For just £35 a year Friends can make unlimited visits to RWA exhibitions and enjoy a host of other benefits, as well as making an important contribution to the arts in Bristol and the South West. 
Find out more and join up here.