Friends Are Showing: Artworks at the RWA 168 Open (part 2)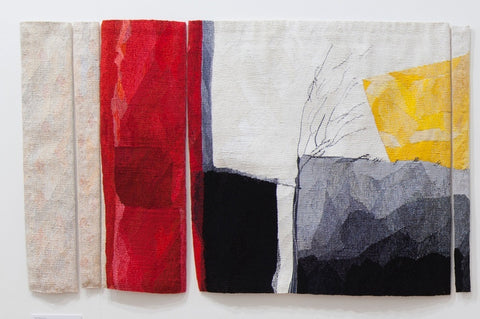 We are delighted to say that the RWA is reopening from Saturday 17 April - Sunday 9 May 2021. Book tickets for the 168 Annual Open Exhibition HERE
While we have been closed all artworks have been available for purchase online HERE and you can still do this until 9 May
We invited some of the Friends featuring in the RWA's 168 Open exhibition to talk about their selected work, as well as about other recent works they've completed and the effect of the pandemic on their art.
The 168 Open has been an online exhibition to date – though it's hoped that the gallery doors will open on 17 May when lockdown restrictions ease. The artworks can all be seen – and purchased –
 

on the RWA website.

Interviews compiled by Laurel Smart and Sue Quirk. See Part 1 here.
---
Caroline Case
Firebird – Golden Apple

 

(Woodcut relief print 1/8. 35cm x 30cm.
Framed print £90. Unframed £50
 

Buy here)
"This is one of a pair of prints of the golden fire bird from Russian fairy tales. In this print, the Firebird is stealing a golden apple from a King's garden. In the sister print, the Firebird gives a gift of a feather to the hero, which has magic powers.
"My work is based between the outer world of nature and the inner world of imaginings. Working with woodcut I am inspired by landscape and by narrative, fairy tale, current events, and to both personal and cultural story. I work in relief printmaking by the reduction method, using Japanese plywood, cutting out the colour I want to keep, in each layer. You cannot go back with the reduction process, any 'mistake' has to be worked with and at the end you are free to start a new print as you cannot ever print it again. I also work in clay while exploring the narrative in which I am currently interested. I like working in two very different mediums and did the same for an exhibition on Migration which was held in early October 2020, between the two major national lockdowns. I made prints about Mexico, imaginary animals trying to migrate but coming up against Trump's wall. I also made a flotilla of clay boats and passengers, people and animals, at risk through social change, war, and climate crisis."
Caroline on her recent work…
"This second print is going to be one of a series of three animals in movement, escapees from lockdown, in flight. In the current lockdown I have felt a need to escape into my imagination where I am free to travel.
"Writing stories, printmaking and sewing a patchwork quilt have given me space to dream while I am locked out of my printing space at Spike Print and a ceramic studio where I can work in Cheddar."
www.carolinecase.com
Instagram @carolinecaseinprint
---
Day Bowman
Fortress 3

 

(Oil charcoal and conte on canvas. 140 x 150 x 3cm. £7,000
 

Buy here)
"Growing up in a holiday destination, a small seaside town, it is not surprising that much of my work has referenced the sea, the beach and littoral. 
"Fortress 3 is one of three works showing at the exhibition which explore how Britain sees itself as a nation post-Brexit and mid-pandemic:  a nation apart or part of a global community?  During last summer I visited a number of south coast seaside towns and was struck by the shapes of past fortress constructions from castles to Martello Towers and the abandoned pill boxes of WW2.  If they haven't been saved by English Heritage or converted into smart holiday homes they have fallen into disrepair and ruin.  I like the shapes and lines of such buildings and have employed them in these paintings; for me they echo the small sandcastles we patted out on the wet sands during the long summer holidays."
Day on her recent work…
"Along with scratched childhood messages to the gods, our childhood castles in the sand were built to keep out the marauding tidal waters; today, I believe these tidal images represent something more sinister, referencing an incoming wave of bigotry and intolerance.  And whilst these are not overtly political works I find within them a questioning on the notion of place, identity and belonging.
"These thoughts continue to inform my practice as a painter and I am currently working towards a solo exhibition at Bermondsey Project Space London in June 2021."
daybowman.com 
Instagram @daybowmanartist
---
Jilly Edwards
New World

 

(Woven Tapestry. 90 x 150cm x 5cm deep. £10,000.
 

Buy here)
"New World was inspired by my new surroundings, having returned to Bristol.  Although city-based, my outlook is S/SW and we look through the treetops and stunning sunsets – shafting colour down the tree trunks. It was woven over a period of months, so I made it in segments referencing the time span. Submitting for an OPEN is always nerve-wracking but when it was accepted it was life affirming. I draw a lot before committing to the weaving, sampling colours: a slow process before the weaving begins.  
"Just as I finished this work, I went to the Drawing Project, Trowbridge and worked in one of their studios for 5 weeks, just to draw in different scales.  Then we were locked down. I now had a studio full of new ideas, so I started to test/experiment with different scale and materials."
Jilly on her recent work…
"Gradually, the new work has become more pared back and gradually a very simple palette of colours emerged. I have been sharing these on Instagram. At the beginning of the lockdown, I posted older work for sale and my publications – they have gone all over the world and kept me going with great followings and comments.
"Apart from the RWA 168th Open all other exhibitions got cancelled or deferred, but just recently, enquiries have started to come in and I've been asked to do three international conversations online and have been offered two exhibitions later this year. 
"My studio has been part of my home for many years, a dedicated space, so the lockdown wasn't so much of a shock and I've just got on with my work. I've always enjoyed the online side of communicating which has meant that apart from the obvious no 'face to face', Facetime/Skype/Zoom have become more useful. "
www.craftscouncil.org.uk
Instagram: @_jillyedwards
---
Pennie Elfick
Cuboid 3 (Wood and acrylic paint. 50cm on flattened axis. £900
 

Buy here)
"The Annual RWA Open is one of those dates in the year that I look forward to; it offers the opportunity to exhibit with the RWA Academicians and other selected artists. The work is always varied and interesting and gives the general exhibitors a sense of some achievement.  It is of course a slightly nail-biting time, will I be in or will I be out!
"The Cuboid here at the RWA is part of a recent body of work that reflects the essence of the paintings but in 3D, during Lockdown I have been exploring the relationship of colour shape and 3D form using collage and cut out paper shapes with some interesting and unexpected results.  This is leading to a simplification in my work that I am excited about."
Pennie on her recent work…
"I create work that has a duality, it is an emotional response to something tangible but resolutely abstract in its pictorial structure.  By removing any figurative references I am able to investigate the poetry that can be created by colour and form in an abstract manner.  Depending on the reference point used for each body of work, these works, by their particular use of colour, may create surfaces that sit quietly or shout, each with the ability to disorientate the eye.  The use of seemingly repetitive shapes, spaces and lines in combination with certain colours can create calm or chaos, order or disorder.
"The use of acrylic paint with its ability to dry so fast has enabled the paintings to be created more by intuition than any mathematical calculation; fine layers of paint are applied, removed and reordered, so that the work grows organically.  In this way, the use of colour and how it reacts is a continuous journey which is full of surprises."
www.pennieelfick.co.uk
Instagram: @pennie.elfick
If you are a Friend exhibiting in the 168 Open and would like to be included in a future post please contact laurel.smart@blueyonder.co.uk  
---
The Friends of the RWA is an independent charity that supports the Royal West of England Academy, Bristol's first art gallery. 
For just £35 a year Friends can make unlimited visits to RWA exhibitions and enjoy a host of other benefits, as well as making an important contribution to the arts in Bristol and the South West. 
Find out more and join up here.