Creative Christmas Advent Calendar: Pick from the Permanent Collection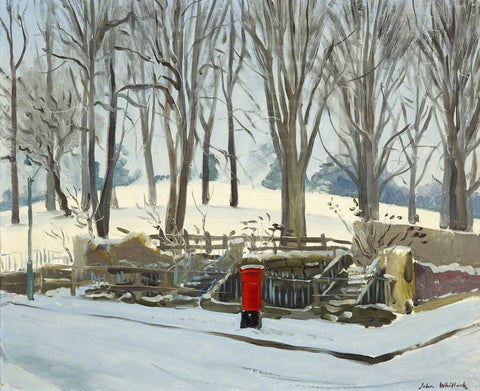 Membership Administrator Jess Kirkby shares one of her favourite works from the RWA's Permanent Collection.
John Whitlock Codner (1913 - 2008) was a teacher, a camouflage officer during World War II and an RWA Academician. He regularly exhibited at the RA and taught at the Sir John Cass School of Art between 1947 and 1951. Although best-known as a portrait painter, the RWA has in its collection one of his landscapes, Brandon Hill, Bristol.
The scene is unpopulated and subdued, the muted colours echoing the muffling effect that snow has on a landscape. The lattice-work of trees in the midground, their branches stretching beyond the edges of the painting, serve to close off the scene and give the painting an eerie, slightly claustrophobic feel. This is heightened by the way Codner uses of the brow of the hill to cut off the natural horizon-line which also contributes to a sense of encroachment, and causes the landscape to concertina unnaturally towards the viewer.
As a fairly recent Bristol resident, what draws me to this image is that the scene is a stone's throw from the RWA, so the locality is tangible, and I like that it has found its home here. I also find it intriguing that Codner chose to place his painting in this quiet corner of Brandon Hill, choosing to bypass the obvious local landmark, Cabot Tower, and instead focus on a quintessential English sight; the red postbox. Footprints nearby suggest that this is not early morning, untouched snow, but the emptiness of the scene hints at the quiet, sleepy days that surround Christmas and the world seems to slow down a little.
RWA Creative Christmas Calendar
This Christmas, try something new, be inspired or even create a unique gift for someone very special as RWA a host of creative Christmas ideas, tips and activities.From Thursday 1 December, the RWA will post gorgeous artworks from the permanent collection, creative challenges from RWA Drawing School Tutors, exclusive competitions and some festive surprises on the RWA blog, Facebook and Twitter.