Creative Christmas Advent Calendar: Pick from the Permanent Collection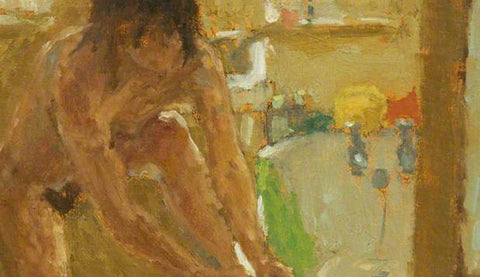 Marketing Intern Isobel DeWolf shares one of her favourite works from the RWA's Permanent Collection.
"Nigel Casseldine, located in Suffolk, is a painter, illustrator and Royal West of England Academician. His illustration career has involved diverse projects including architectural guides and travel books. As a painter, his subject matter generally comprises of still life and landscapes, but in his work The Toilette, he focusses on a domestic scene. When asked about his influences Casseldine said: 'Within the growth of any painter there must be a kaleidoscope of influences. My own began at about twelve years with my first contact with Turner.' I think that this inspiration from the nineteenth century master of light is perfectly depicted in The Toilette."
"The Toilette depicts a nude female figure drying off from bathing. The viewer stands in the doorway, watching her. The use of comforting yellow light and colour that streams through the curtains captures a specific time of day – a warm, bright morning, approaching noon. The voyeurism of the viewer is not one of secrecy or unease, but instead suggests a sense of comfort between the two figures – to me they are in conversation, commenting on the weather or discussing what they are going to do that day. Casseldine has painted a scene and a space that is domestic and also private. The everyday, mundane activity shown here is the artist allowing the spectator into a close, familial moment."
RWA Creative Christmas Calendar
This Christmas, try something new, be inspired or even create a unique gift for someone very special as RWA a host of creative Christmas ideas, tips and activities.From Thursday 1 December, the RWA will post gorgeous artworks from the permanent collection, creative challenges from RWA Drawing School Tutors, exclusive competitions and some festive surprises on the RWA blog, Facebook and Twitter.