Creative Christmas Advent Calendar: How To Make a Pochade, Stewart Geddes PRWA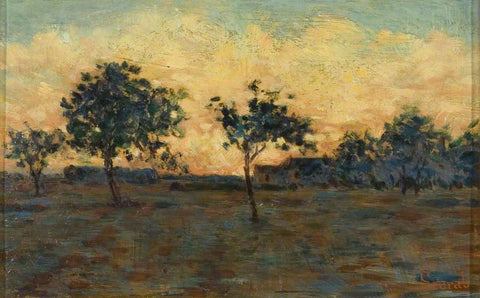 President Academician Stewart Geddes opens the RWA Creative Christmas Calendar with his ingenious idea for a portable painting essential...
"This Christmas look out for any wooden cigar boxes. Chuck out the cigars - or better still, get out the port and smoke the lot! Your wooden box can now be used as a 'pochade box', a French invention for plein air artists."
"Cut some card panels the same size as your lid to use as panels for painting. The base of the box should be oiled up with linseed oil, and can now be used as a palette."
"I have heard two reasons for the word 'pochade'. One, derived from the French word 'pocher' meaning to sketch, the other from the word 'poche' meaning pocket. Both seem credible."
"Off you go with your new mobile easel and palette combined, perfect for outdoor painting!"
Painted in about 1881 in the forest of Fontainebleau, the above image, titled Sunset, is one of the earliest surviving oils by Georges Seurat. Before his well known 'Bathers at Asnières' (National Gallery, London), many of Seurat's paintings were small oils which he called croquetons (little sketches). He often painted these on cigar box lids which measured 16 x 24 cm, were easily transportable, required no special treatment, and the colour of the wood provided an ideal ground for his landscapes.
RWA Creative Christmas Calendar
This Christmas, try something new, be inspired or even create a unique gift for someone very special as RWA a host of creative Christmas ideas, tips and activities.From Thursday 1 December, the RWA will post gorgeous artworks from the permanent collection, creative challenges from RWA Drawing School Tutors, exclusive competitions and some festive surprises on the RWA blog, Facebook and Twitter.