A Bristol University Student Reflects On Her First Visit to The RWA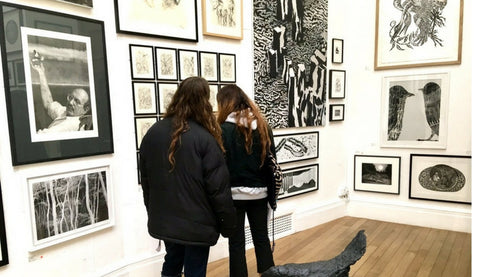 This blog post is by Jessie Cant, First Year History of Art and Russian, University of Bristol
Jessie Visited as part of Approaching the Object, first year History of Art unit on 13 November 2017.
Having only just started formally studying Art History at university, I was naturally apprehensive about the visit to the RWA, such a renowned and classic building. Though as a group we had visited several galleries and museums before the RWA, the trips differed greatly from each other and were so diverse that I didn't know what to expect.
However, upon arrival I knew that I had nothing to worry about. The staff were incredibly welcoming and encouraged questions after having given us an overview of the building before going through the gallery doors into the exhibition itself. Once inside the galleries we were told a little about the various artists and their works and about the process involved in arranging the artwork and installing the exhibition.
The artwork itself was wonderfully diverse and the contrasting styles between so many works in the same room was something I hadn't seen first-hand before. The gallery clearly takes great pride not only in displaying diverse work by local artists but also in showing work by different artists from around the world, such as Hong Kong and Madagascar.
The rooms themselves were bright, open and had a welcoming feel about them. Although there were a lot of works on display, it didn't feel overwhelming and instead, I felt encouraged to explore and find out more about individual pieces. From Iris Legendre's detailed watercolour study of a face to Judy Stephens' textile work titled Comfort Blanket, there was something for everyone and I particularly enjoyed the Stancomb-Wills gallery which included drawings and sketches.
It was nice being able to wander around in our own time and think about the placement of the artwork in the different rooms and how this affected the viewer. Though many of the works in the rooms caught my attention, I particularly liked Jon England's Seeds to the Wind produced using poppy seeds and varnish. It focused on the symbolic nature of the poppy, with the number of seeds used representative of the number of lives lost. However, there was so much on display, it was difficult to choose a favourite.
The 165 Annual Open Exhibition is one I'd love to see again, and this visit has encouraged me to find out more about the RWA as a space, including its history and the artists it represents. I came away from this trip elated and feeling very lucky that such a place is so easily accessible as a student at Bristol. It is the perfect place for those who already know lots about art or for those like myself, who love art and wish to learn more.