Bringing art to everyone - Meet RWA's Helen Jacobs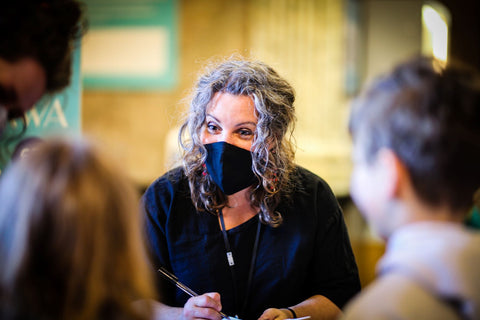 Meet Helen Jacobs RWA's Learning and Participation Manager who will be commissioning the art activities in the new space for families that you are helping to fund.
You started at the RWA a couple of years ago, what is the highlight for you about working on this historic project at the RWA?
I am most excited about partnering with people who have felt excluded from places like RWA before, and working more deeply for an extended time with these groups and individuals across the city. I'm also glad to be getting to know so many freelance artists as new partners with RWA who are delivering amazing workshops.
What are the most important outcomes for visitors that you see coming out of this work?
The most important outcomes for visitors are that the RWA becomes somewhere they can find a space to be themselves, that they feel welcome and that we are listening.
The young people we are working with will be engaging with art, artists, and creative processes – some for the first time. I hope this project will lead to them finding their own visual language and growing in confidence.
For adults with learning disabilities, physical disabilities and sensory impairments it's about having their abilities recognised rather than their disabilities, as well as being appreciated and supported.
For our family audience, having fun and experiencing the joy of making and creating is vital and so if they find activities that suit them, either at RWA or at one of our off-site workshops that will be an important outcome.
What type of artist-led activities are you planning for the space and who will take part?
Some of the new activities happening at RWA when we reopen are:
Family Art Detectives trail

 

– a free, fun heritage trail of activities throughout the RWA building with Venetia Scott.
Happy Mondays

 

– monthly sessions in the gallery for neurodiverse children and SEND families, led by artist Rae Melody.
Baby Group

 

– monthly Fridays in the gallery for parents with babies under 1, led by Jane Porter.
Scribble & Sketch

 

- a free, drop-in family art activities with an artist in community centres across the city led by several different artists.
Family Learning Space

 

– the new family room at RWA will be a relaxed space to drop-in and enjoy, for learners of any age.
Roma Youth Art Group

 

– Isis Whiteaway will be leading art workshops for Roma young people in Easton.
Dementia Friendly Tours and Workshops

 

– we look forward to more creative sessions with Dhek Bhal, Happy Days, and Trymview Care Home residents.
Please help Helen make these activities become a reality and donate here or share the campaign.
Helen Jacobs
#RWAArtforAll