Best of the West – Art exhibitions and events in October 2019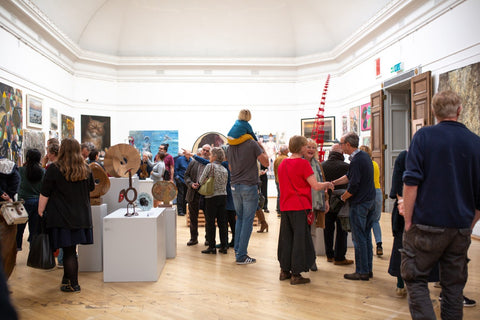 The best art exhibitions in Bristol and the Westcountry this month – selected by the Friends of the RWA…
Here's our pick of the best art exhibitions and events happening in and around Bristol and the south west in October – including 'Last chance to see' shows and a look ahead to upcoming features….
Compiled by Sue Quirk and Laurel Smart
AT THE RWA
The 167 Open Exhibition – 29 Sep -1 Dec 19
The RWA's renowned Annual Open Exhibition returns for its 167th year with a stunning variety of work from emerging and established artists. Full info here.
This year The Floating Circle is sponsoring a prize for the best work by a student – so look out for that!​
Academican Candidates' Exhibition 2019 – 27 Sept – 1 Dec
Works from the eight candidate academician artists, including Rosalind Robinson, whom we interviewed here. More info here.
OCTOBER EXHIBITIONS
1) CUT TO THE CHASE
2 OCTOBER – 3 NOVEMBER
An exhibition of woodcut prints and oil paintings by Nat Morley. "My work reflects a passionate interest in the natural world. I like to depict creatures with a bit of 'attitude' and aim to create bold, lively images. I see my work as a celebration of my love for wildlife and try to capture a feeling of movement, vitality and humour in my pictures. I have specialised in relief printmaking and carve my blocks out of MDF using lino cutting tools…"
Tetbury Goods Shed Arts Centre, Old Station Yard, Cirencester Rd, Tetbury GL8 8EY
www.shed-arts.co.uk
2) LYME BAY ARTS: TWO EXHIBITIONS
WATERLINE UNTIL 9 OCTOBER & ANNIE WARD 12-23 OCTOBER
Waterline: Photographers Tricia Scott and Lois Wakeman both look for abstract images in the everyday – things that others would walk past unseeing. The viewer is invited to admire the surprising patterns they have brought to light, and imagine the scenes that are suggested by random brushstrokes, sanding and corrosion.
Annie Ward Recent Work: Her latest paintings are constructed abstracts which are based on her own drawings of Dorset field margins interwoven with details gleaned from historic maps and contemporary satellite photographs.
Lyme Bay Arts, The Gallery, Symondsbury Estate, Symondsbury, Bridport DT6 6HG
www.lymebayarts.co.uk
3) EUROPE AFTER THE RAIN
UNTIL 12 OCTOBER
Taking its title from Max Ernst's 1942 surrealist painting Europe After the Rain, the exhibition explores a future environment where things have evolved, or devolved, into a strange new state. Presenting painting, sculpture and film installation, exhibiting artists will include, among others, Larry Achiampong, Peggy Atherton, Karin Bos, Crowe & Rawlinson, Nick Laessing, Onya McCausland, Melanie Manchot, Rebecca Partridge and Benny Nemerofsky Ramsay.
Newlyn Art Gallery, New Road, Newlyn, TR18 5PZ
https://newlynartgallery.co.uk
4) CENTRESPACE: TWO EXHIBITIONS
OPEN STUDIOS 2019 12-16 OCTOBER & PAPRÉ! 19-30 OCTOBER
Open Studios 2019: Centrespace is an established creative community in the heart of the Old City of Bristol. This will be a rare opportunity to engage with and buy from some of Bristol's award winning independent artists, contemporary makers, illustrators, printmakers, animators, and architects.
Papré: Noun – A collection of items – usually found objects, leaves, feathers, shells, and also paper-works that evoke specific memories or feelings. Accumulative in nature, Papré usually refers to a large number of these items in one place that have been washed up over time onto the same "tideline". Eloise Dunwell will be producing her first solo exhibition at Centrespace, chronicling her work for the last ten years.
Centrespace Gallery, 6 Leonard Lane, BRISTOL BS1 1EA
www.centrespacegallery.com
5) LAURENCE EDWARDS 'A GATHERING OF UNCERTAINTIES'
UNTIL 19 OCTOBER
A two venue exhibition in Wiltshire and London galleries by sculptor Laurence Edwards. These sculptures seem aware of the consequences of their actions – they allude to a natural empathy but suffer the contradiction that their mere existence may contribute to a decline. In A Gathering of Uncertainties Laurence Edwards seeks to leave a record in which others might imagine or find a maker, or perhaps feel the time in which things were made, and excavate subconscious acts which might lay under the surface, in turbulent times. NB WORKSHOP: Drawing with Clay, Sat 19 October 2-3pm TALK & FILM SCREENING: 'Man of Stones', Sat 19 October 6:30pm
Messums Wiltshire, Place Farm, Court St, Tisbury, Salisbury, Wiltshire, SP3 6LW
https://messumswiltshire.com/laurence-edwards-gathering-uncertainties/
6) LOUD AND CLEAR
UNTIL 27 OCTOBER
Presents work by some of the finest glass artists working in Britain, selected by the National Glass Centre whose expertise brings glass to New Brewery Arts in a way never seen before. Work ranges from floating glass panels etched with photographs, to brightly coloured vessels, to extraordinary sculpture.
New Brewery Arts, Brewery Court, Cirencester, Gloucestershire GL7 1JH
www.newbreweryarts.org.uk
7) WHERE FUNCTION ENDS: RESPONSES TO THE ARCHITECTURE OF SIR EDWIN LUTYENS
UNTIL 27 OCTOBER
To mark the 150th anniversary of the birth of Sir Edwin Lutyens (1869-1944), new work by three artists that responds to the legacy of the man whose designs transformed the Hestercombe site. Alex Hartley will explore the contested relationship between Lutyens' architecture and Modernism. Liz Nicols' new photographs will examine the ways in which Lutyens developed his 'elemental mode' of architecture in his designs for war cemeteries along the Western Front; and artist in residence Oliver Sutherland's research into the sculptural and poetic relationship between Lutyens' landscaping and Gertrude Jekyll's planting will be presented in a moving image work that layers performance, sound and written narratives.
Hestercombe Gardens, Cheddon Fitzpaine, Taunton, Somerset TA2 8LG
www.hestercombe.com
LAST CHANCE TO SEE…
UNTIL 5 OCTOBER: ALI CORDER & ELIZABETH LOVEDAY This new work aims to be an interactive and evolving project, with paintings, textiles and objects that explores gossip, proverbs and Chinese whispers. NEWLYN ART GALLERY www.newlynartgallery.co.uk
UNTIL 5 OCTOBER: : FATHOM Simon Faithfull's new film work was shot in the water-bound ruins of a futuristic beach house off the coast of Florida. THE EXCHANGE, PENZANCE www.newlynartgallery.co.uk
UNTIL 6 OCTOBER: This 'whole site' exhibition showcases an incredible wealth of talent, drawn from artists of all ages from across Somerset and beyond. THE BISHOPS PALACE, WELLS www.bishopspalace.org.uk/a>
UNTIL 6 OCTOBER THE ENGLISH WOMAN'S FLORA Fiona Hingston's new body of work includes more than 200 wildflowers made from masking tape and graphite. BLACK SWAN ARTS, FROME www.blackswanarts.org.uk
WATCH OUT FOR…
JON ENGLAND: HOUR HANDS UNTIL 8 NOVEMBER Explores the human history of the west Somerset mineral line through a series of salt and iron portraits. Market House Museum, WATCHET http://www.containsart.co.uk
TOURING THE SWINDON COLLECTION, 60 YEARS ON – UNTIL 9 NOVEMBER This exhibition brings together the 44 works of art sent 'on tour' in 1959 and presents them alongside some of the most important acquisitions made in the decades since. Swindon Museum and Art Gallery, SWINDON swindonmuseumandartgallery.org.uk
ROSALIND ROBINSON FACE TO FACE UNTIL 9 NOVEMBER Inspired by the love of early Flemish portraiture and the direct gaze. That Art Gallery, BRISTOL thatartgallery.com
BAD ACTORS UNTIL 9 NOVEMBER Painting exhibition that takes its cue from Pirandello's Six Characters in Search of an Author, a play that calls into question the nature of reality, artifice and authenticity. KARST, PLYMOUTH http://karst.org.uk/
REWILD UNTIL 9 NOVEMBER Painter of British wildlife, based in Lympstone, Devon – concerned with declining biodiversity and the loss of wild spaces. Ace Arts, SOMERTON https://www.acearts.co.uk/exhibitions/2019-exhibitions/
DAVID SMITH. FIELD WORK UNTIL 5 JANUARY Debut solo exhibition by the eminent American artist. Hauser & Wirth, BRUTON https://www.hauserwirth.com/hauser-wirth-exhibitions/25223-david-smith-f...
THE LOST WORDS UNTIL 12 JANUARY Unique collaborative project between writer Robert Macfarlane and artist Jackie Morris celebrates the relationship between language and the living world, and of nature's power to spark the imagination. Royal Albert Memorial Museum, EXETER https://www.devonmuseums.net/Royal-Albert-Memorial-Museum-and-Art-Galler...
ONE DAY EVENTS
5 & 6 OCTOBER 11-5pm (and by arrangement until 31 October) Winegums and Moonbeams An exhibition of contemporary expressionist paintings by Nigel Shipley HOURS, BRISTOL http://www.hours-space.com
19 October 2-3pm Laurence Edwards WORKSHOP: Drawing with Clay, 6:30pm TALK & FILM SCREENING: 'Man of Stones' MESSUMS WILTSHIRE, SALISBURY https://messumswiltshire.com/laurence-edwards-gathering-uncertainties/
24 OCTOBER In Conversation: Meriç Algün and Carmen Juliá Meriç Algün discusses the themes of her exhibitionDay Craving Night, including desire, separation and boundaries, with Spike Island curator Carmen Juliá. SPIKE ISLAND, BRISTOL https://www.spikeisland.org.uk/programme/events/in-conversation-meric-al...
29 OCTOBER Sculpture in the City: In conversation with Luke Jerram‌ His multidisciplinary practice involves the creation of sculptures, installations and live arts projects. He will discuss the place of sculpture in his artistic practice as well as the role of the artist in the public realm. UNIVERSITY OF BRISTOL http://www.bristol.ac.uk/pace/public-events/autumn-art-lectures/
If you would like an exhibition or artist to be listed please email laurel.smart@blueyonder.co.uk and we will consider it for inclusion.
Interested in reading more articles like this? Then join the Friends of the RWA. This piece is from their quarterly newsletter—a publication exclusively for the Friends of the RWA containing articles, interviews and RWA news.
Interview conducted by Andrew Nixon, editor of the Friends of the RWA's arts blog The Floating Circle.
Cover image: RWA 167 Annual Open Exhibiton, Lisa Whiting
Image in body of text: Becky Buchanan, Fifteen, mixed media with industrial resin on canvas