Artwork of the Month: November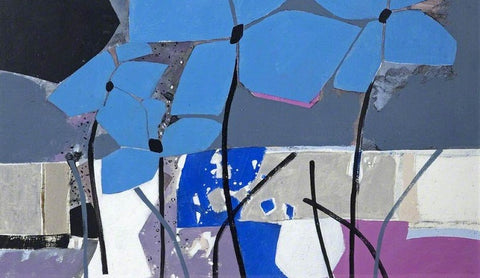 November's Artwork of the Month has been chosen by Fiona Robinson RWA. She has picked Meconopsis 2 by Alastair Michie from the RWA Permanent Collection. Fiona writes:
'I met Alastair Michie in December 2007 when I went to interview him about his new body of work Indian Summer for a magazine feature. He talked about the fact that the paintings were about the autumn of his life, sadly prophetic, since he died a few months later in May 2008.
Michie lived in Wareham in a beautiful Queen Anne house hidden from the street behind a heavy fringe of dark foliage. Stepping into the small front garden was like entering a different world, a feeling accentuated by the cavernous interior of the house filled with art and fine furniture. Sitting in front of a roaring winter fire we talked about art and music, one of his great passions, and his experiences as a pilot during the war, for which he was decorated. Already in his mid-eighties he was frail but generously shared fascinating anecdotes, with a wonderful charm and innate courtesy.
Michie's studio in the vaulted cellar of the house was a treasure trove of his paintings, drawings and sculpture. Son of the Scottish colourist Anne Redpath he trained initially as an architect but the war interrupted his studies and he never returned to them, working instead as an illustrator and designer. His encounter with the Abstract Expressionists at the Venice Biennale in 1962, in particular Mark Rothko, Franz Kline and Robert Motherwell, was the catalyst for him to start to paint. His bold abstract compositions are underpinned by a discipline and structure born of his early architecture training and his determination to leave the figuration of illustration behind.
Meconopsis 2, based on a poppy-like flower with paper-thin petals, is unusual. Although Michie occasionally painted lilies as an exercise he avoided representation, his influences coming from the Dorset landscape and his wartime experiences. Rarely painting from life he relied on memory, which allowed him to distill what he had seen, paring it down to its essential elements. The texture and subtle jewel-like colours in this painting are characteristic of the thin acrylic washes, his medium of choice, which he laid down on a white ground. The cut out shapes reference his early use of collage as well as suggesting both Matisse and William Scott, though he never cited either of them as an influence.'
Alastair Michie's painting will be on display on our upstairs landing throughout the month of November.