Artwork of the Month: November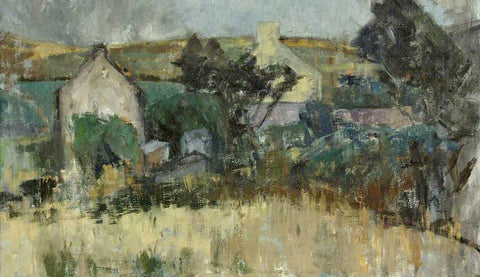 November's Artwork of the Month has been chosen by Gareth Edwards RWA. He has picked Near St. Just by June Miles RWA from the RWA Permanent Collection. Gareth writes:
'June Miles has been painting the landscape around her home town of St. Just for years. It also happens to be a landscape I am very familiar with myself. It can seem at times a rough-hewn landscape, and that tough, rough-hewn quality is present in this painting, an elegant essay of robust composition and a terse palette that so surely sums up the prevailing windswept atmosphere of West Penwith. These painted forms stand firm, these colours remain calm. It is a modest painting in some ways but an honest one, full of integrity and hard-won analysis. This is not to imply that this painting is without beauty; on the contrary, like a Webern miniature composition, this painting reveals itself over time, drawing the viewer in and seducing us with its emotional intelligence. I find it very beautiful.'
June Miles' painting will be on display on our upstairs landing throughout the month of November.
Gareth Edwards' work Western Power can be seen in the Sharples gallery as part of our Annual Open Exhibition, which continues until 27 November.