Artwork of the Month: May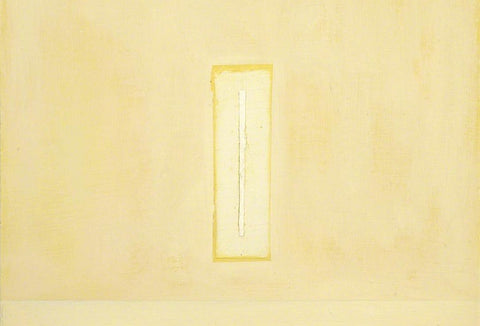 May's Artwork of the Month has been chosen by Sandra Porter RWA. She has picked Bone on Bones Series 'Entrance' by Camilla Nock from the RWA Permanent Collection. Sandra writes:
'Having the opportunity to explore the RWA collection is a rewarding experience and selecting a Painting for the Month is a great responsibility. I confess that I was searching for an 'abstract' work and my eye was captivated by this small subtle piece by Camilla Nock.
I visited Camilla to learn more about this picture. She said that the Bone on Bone Series was the sequel to her End of Time paintings that were based on Messiaen's Quartet for the End of Time that he wrote and performed when a prisoner of war in Stalag VIII-A. In the End of Time paintings colour was the central element, representing broken instances of blue sky glimpsed through prison bars.
Camilla explained that "the Bone on Bone Series explores an expression of grief and finality through silence, consequently with no colour as in some cultures where the bones of the dead are exposed to the elements for a final dissemblance."
Made up of thin layers of encaustic (embalming) wax over a period of weeks, lines are etched into the surface before being rubbed with pigment. There is a faint low horizon line and a vertical rectangle dividing the space that implies an entrance in the distance.
It would be easy to stroll slowly past this painting with just a little more than a passing glance, but stay, see, and absorb its complexity with your gaze.'
Camilla Nock's work will be on display on our upstairs landing throughout May.