Artwork of the Month: May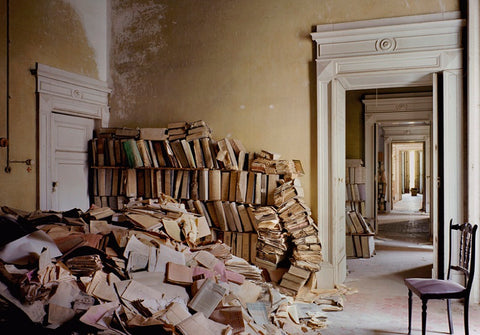 May's Artwork of the Month has been chosen by Peter Ford RE RWA. He has picked Books, Napoli by Barry Cawston from the RWA Permanent Collection. Peter writes:
'Why did Barry Cawston decide to focus his camera on a collapsed pile of dusty books in a former Italian records office in an abandoned building that had once been a palazzo? What is in the further recesses and who had occupied that chair? For me, the image is eerie and haunted, even literary, suggesting the mood of an M.R. James story or the Henry James' novella 'The Aspern Papers' also set in Italy. It provokes speculation about the past history of the books and the building - and how time eventually wears away all significance and value.
In 2008 this photograph was chosen for the collection by Derek Balmer, then President of the RWA, investing it with special significance as the first– and so far, only – photograph to be added to the Permanent Collection, placing it, and by implication, the technique of photography itself on a par with paintings, prints, sculptures and drawings.
'Books, Napoli' was selected from 'Through the Lens', 2008, the RWA's first open submission photography exhibition, which I organised together with Maxine Relton RWA. The consequence of this initiative was that the technique of photography would be added to the regular annual focussed exhibitions, previously limited to painting, sculpture and printmaking. (The current periodic 'Drawn' open exhibition is the surviving example of these.)
Barry Cawston is an internationally known photographer based in Somerset. Themes in his work derive from his travels in Europe, Brazil, Cuba and, notably, in China. In 2005 he made a photographic record of a journey along the Yangtse River from its source in Tibet to its estuary just north of Shanghai.'
Technical note: This image is described as a 'C-Type Print', 'C' standing for chromogenic, implying the production of colour or pigments. Such an image is made in the traditional way using negatives or slides, plus an enlarger and photographic paper. Barry Cawston uses a Wista Field camera which has a wooden framework and concertina-type leather bellows. Normally a tripod would be used. The resulting print can have great refinement of detail and colour.
Barry Cawston's photograph will be on display on our upstairs landing throughout the month of May.