Artwork of the Month: June - July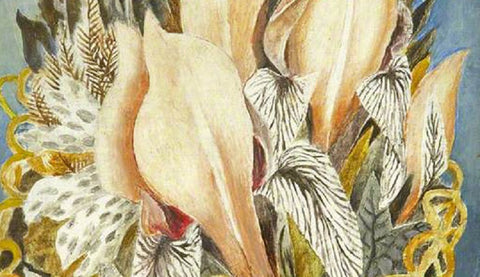 June's Artwork of the Month has been chosen by Nicola Bealing RWA. She has picked Irises by Dorothy Larcher from the RWA Permanent Collection. Nicola writes:
'I chose this painting because it seemed an odd little thing: hand-sized, intimate, no bigger than a birthday card, full of spirit, awkwardly beautiful.
With a successful career in wood-block printing behind her and responsible (with her partner Phyllis Barron) for some of the most iconic fabric designs of the 1920s and 30s, Larcher's take on flower painting doesn't fuss with a life-like depiction of the subject in front of her. The making of a painting takes precedence.
Formalised against an unlikely background, this is a little bunch picked in an early English spring, at the point in the year when flowers are at their most welcome and heartbreakingly fragile - iris, cyclamen, fritillary, ivy, pulmonaria – yet Larcher makes no concessions to prettiness, giving us none of the ruffle and flounce of the living flowers.
Colour is pinned low, restrained, bleached, the brightest notes held in the lick of red at the heart of the iris and the bluer-than-sky blue of the ribbon which corsets the flowers into their peculiar golden basket. And painted in the most un-iris like of colours, the irises themselves seem to have become slightly sinister, sturdily triumphant, undeniably fleshy.
Larcher has stepped a long way from the tasteful path of the genteel lady flower painter. She nods in passing to Ravilious, Spencer, Bawden but this painting is its own thing, exudes self-assurance and doesn't seek to please. I like it very much.'
Dorothy Larcher's painting will be on display on our upstairs landing from the opening of In Relation: Nine Couples who Transformed Modern British Art and Togetherness on 16 June until the end of July. Further works by Dorothy Larcher, including her wood-block textile designs with Phyllis Barron, are included in In Relation.