Artwork of the Month: June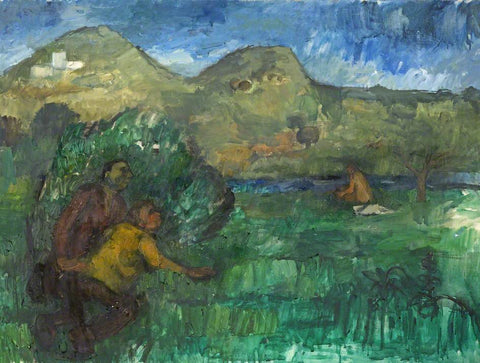 June's Artwork of the Month has been chosen by Wendy Elia RWA. She has picked 'Suzanna and the Elders' by Anthony Fry from the RWA Permanent Collection. Wendy writes:
'This very early work was purchased at the 103rd Royal West of England Academy Autumn Exhibition in 1954.
It is not quite as freely painted as his more mature style but it certainly is a precursor to it. Although the influence of the language of Cezanne's Bathers is evident, Anthony Fry's subversion of the traditional way of portraying the story, is more reminiscent of Manet's Le dejeuner sur l'herbe.
The story of Susanna and the Elders in the book of Daniel is one of the many #metoo moments in the Old Testament: two respectable elders (old men) spy on a woman bathing then threaten to claim she is an adulteress unless she sleeps with them.
There have been many painted versions of this tale over the centuries, as under the 'cover' of being a moral tale, it allows the portrayal of a naked or semi-naked woman, either in or out of the water to be enjoyed by the viewer. So in effect the viewer joins in the voyeurism of the old men. Check out Picasso's many versions, Rubens, and even Artemesia Gentileschi's version allows for a certain amount of page three titillation (though at least her Susanna looks horrified and disgusted and is obviously putting up a fight).
So back to Anthony Fry's version: The main characters in the painting are in the foreground. They are men in modern dress, creepy Peeping Toms hiding behind a bush, whilst Susanna herself is way in the distance and has her back to us - a truly modern version.'
Anthony Fry's work will be on display on our upstairs landing from mid-June.