Artwork of the Month: January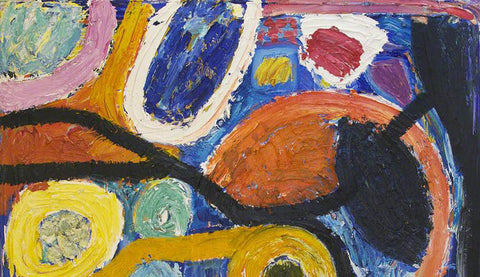 January's Artwork of the Month has been chosen by Louise Balaam RWA NEAC. She has picked Mambo by Gillian Ayres RWA (Hon) from the RWA Permanent Collection. Louise writes:
'Now in her eighties, still painting in her remote Devon studio, Gillian Ayres has always been an abstract painter, unrepentantly involved with the materiality of paint. 'I just like painting, I wouldn't know what to do without it. I don't find it odd at all to spend one's life just doing it.'
Ayres has spent her whole life as an artist in a sustained project of finding out what paint can do. Her paintings emerge from a rigorous and intuitive process of painting and repainting, orchestrating and reorganising her forms until the whole thing works. She doesn't know how the painting will look when it's finished – 'All I can say is that sometimes one painting feeds another.' Her visual influences are wide-ranging, including Crivelli, jelly moulds, Mrs Beeton's ice cream and cakes, finials and crockets, lichens and seaweeds, shells, Uccello hats and plumed helmets. 'I never use something in nature directly, but God knows what gets into you.'
I love the joyous energy of this painting. Compressed forms, hovering between geometric and organic, are densely packed onto the square canvas. The paint is laid on thickly with brush or knife, layered in some places so that the underlying colour shows through, and in other places put on in dabs which act as a kind of screen. The colour is clear, and high-key. Orange vibrates against blue, black and yellow lines snake and coil across the painting, and pink edges define the boundaries. Ayres' titles are usually added after the painting is made, rather than being a description of the subject. Maybe there's an idea here of intoxicating dance rhythms, but my feeling is that this is a painting to be enjoyed for itself - the sizzling juxtapositions of colour, the forms enclosed in other forms, as delicious as a box of exotic fruit.'
Gillian Ayres' painting will be on display on our upstairs landing throughout the month of January.