Artwork of the Month: February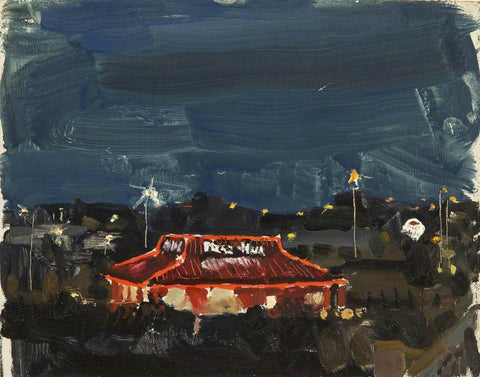 February's Artwork of the Month has been chosen by Ros Ford ARE RWA. She has picked Pizza Hut by Danny Markey RWA from the RWA Permanent Collection. Ros writes:
At first glance I thought the subject of this painting was a big top, ready for the evening performance. The painting generated a feel-good factor such as seeing a warm and welcoming place of safety after a long and cold walk when dusk has fallen. The landscape surrounding the Pizza Hut is indistinct. The sludgy colours are offset by the broad sweep of the night sky on the outskirts of in a town or city punctuated by the artificial lights. I think Danny Markey has painted the work at speed as if the artist had moments to capture this exact time and feeling.
The work reminds me of more traditional landscapes with cottages or inns with a welcoming light shining. An example is Van Gogh The Cottage* where there is the glow of a single tiny flame seen through the window. Cottages were a recurrent theme throughout Van Gogh's work he viewed them as 'human nests.' He often painted human light co-existing with natural light.
Danny Markey's painting portrays an ordinary landscape we pass regularly and which is often unnoticed. I think Pizza Hut appears to offer a place of 21st Century warmth and safety in what is an often an unwelcoming area on the fringes of towns and cities.
*The Cottage, Nuenen by Van Gogh, May 1895, The Van Gogh Museum, Amsterdam
Danny Markey's painting will be on display on our upstairs landing throughout the month of February.