RWA Volunteer Geraldine Haberfield on Warren Story (PPRWA)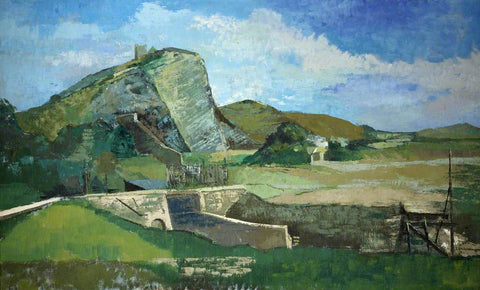 Guest writer Geraldine Haberfield was one of Warren Storey's students at Weston-super-Mare Art College in the 1960s. In this blog post, Geraldine studies two of the artist's works and offers her personal insight into the creative mind of this talented artist. 
Uphill Cliff (1962) 
From the many pieces of Warren Storey's work in the RWA Permanent Collection I have chosen to write about the artwork 'Uphill Cliff' (1962).
'Uphill Cliff' features the actual cliff in Uphill, Weston-Super-Mare. It is very imposing and is known as "The Slab" because of its shape. I particularly appreciate the unique angle from which this cliff was painted, where, taking in the surrounding view of Uphill, it is shown to be there, but does not over impose. Knowing the area as I do, this would be would be difficult to achieve. The unusual view point chosen by Warren Storey was a clever strategic decision taken by an artist highly skilled in the observations of composition. I also admire this painting for its excellently executed technical skill, which is the hallmark of Warren Storey's work. I am not surprised it is a painting thought worthy of being included in the Permanent Collection of the RWA.
Image credit: Uphill Cliff (1962) Warren Storey (1924-2008) © the artist's estate. Photo credit: RWA (Royal West of England Academy)
About Warren Storey (PPRWA) (1924-2008)
Warren Storey was Chairman of the RWA, under Mary Feddon, during the 1980's, and Vice President in the 1990's. He regularly exhibited at the RWA Autumn Exhibition, and also in the Summer Exhibition of the Royal Academy in London. He was a true craftsman and draughtsman in the practice of his art genres. He mainly painted still life, but also landscape and family scenes, in an impressionistic, naturalism style, with a strong sense of design.
He was born in South Shields in 1924 and, at age 17, he entered the local art school, which was situated next door to the school he had attended. The Head of the art school during this time was the ceramicist, Eric Gill. It was here that Warren Storey mastered the disciplines of life drawing, architectural perspective and anatomy that served him well in his figurative art at the end of World War Two.
Warren Storey also enjoyed classical music and, during the war, discovered he had a natural talent for public speaking. He gave an impressive lecture on Elgar to a very large audience in Scarborough in 1944. This inspired him to continue public speaking giving talks on the history of art.
In 1950, he became Head of the rather run down art school in Weston-Super-Mare. The town does, however, boast spectacular views over the Bristol Channel and has several quaint villages, such as Uphill, Kewstoke and the old parts of Worle. One or two of these featured in his paintings, as well as North Yorkshire, France, Cornwall and Richmond.
It is due to Warren Storey's talent and tenacity that the art school in Weston-Super-Mare survived despite several attempts to close it down, and in due course, under his leadership, actually thrived, as it still does today. During this period he also formed an exhibiting society titled the Ancantia Group, comprising of former students and local artists.
He was one of the pioneers of art education in the West, at the same time as Paul Feiler in Bristol, Reggie Dent in Cheltenham, Alex Mackenzie in Plymouth and Clifford Fishwick in Exeter. However, he was not in favour of the experimental practices coming through at that time, at the expense of traditional, academic philosophies.
He was an excellent tutor, with a great talent for imparting knowledge, and had a distinctive sense of dress whilst sporting a bow tie. He was a congenial man with a twinkle in his eye, a man of exemplary values who was married to a lovely lady. How do I know all this? Because I was a student of his in 1960. As my tutor, mentor and Head of Weston-super-Mare Art College, I admired and respected him hugely, as I did his lovely wife.
The Oil Lamp (1963)
Another of my favourite works by Warrantees Storey is 'The Oil Lamp' (1963). This piece features a light bulb and an oil lamp, illustrating the tension between one and the other as to which shone the brightest.
In some ways, I think this could also be a self portrait reflecting on different sides of his character. About a year after he had passed away, I was studying one of his landscape oil paintings exhibited in the RWA Autumn Exhibition and told one of his fellow academicians how I respected him as a person and tutor, he commented, "he could be abrasive, you know". It was not a side I ever saw of him, but if he had to stand up for his own views and opinions amongst his fellow piers, I respect that of him too.