Art Appreciation Series: Louisa Crispin on William Townsend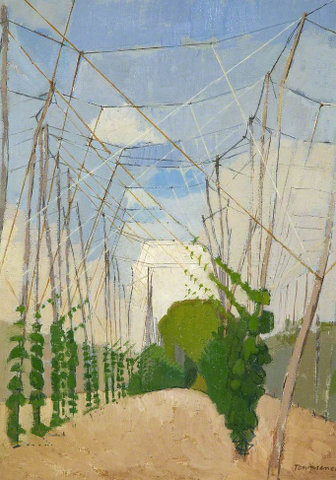 We asked our artists to share their favourite works from our Permanent Collection. Here is Artist Network member Louisa Crispin's pick
William Townsend (1909 - 1973), Hop Alley, oil on canvas, 49 x 34cm
Looking through the archives I was immediately drawn to Hop Alley by William Townsend.
I grew up in Kent with views across orchards to the hop fields and the North Downs in the distance on a clear day. Through the summer we walked the edges to reach the woods behind Sissinghurst Castle, watching the stringers and later, coming home from school to the smell of drying hops in the oasts nearby, a distinctive smell that will forever remind me of September, my birthday and the end of summer. I'm too young to remember the hop pickers from London but we saw evocative black and white photographs and listened to their stories at school. Many local families descended from those who chose to stay in this idyllic countryside, so beautifully depicted in this painting.
Of all Townsend's paintings, this one is by far my favourite. The perspective lines drawing you through the fresh growth to a nostalgic summer sky, encouraging an adventure through the fields. An uplifting light and airy rendition. A day of picnics, fishing in the castle lakes, an Enid Blyton childhood of walks and nature. A promise of good things to come.