Art Appreciation Series: Len Green on Gillian Ayres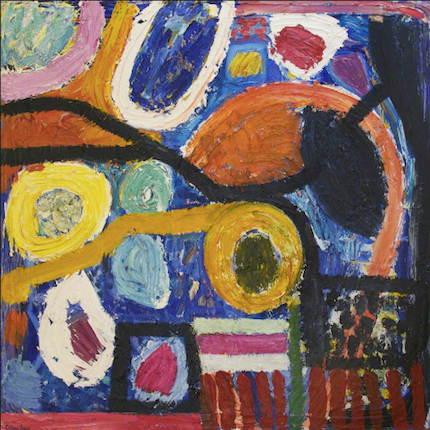 We asked our artists to share their favourite works from our Permanent Collection. Here is Artist Network member Len Green's pick:
Gillian Ayres (1930-2018), Mambo, oil on canvas, 122 x 122cm
I have always found the work of Gillian Ayres tremendously exciting and stimulating - her love of colour and the delight she takes in making the expressive qualities in her work are so much reflective of her style. She is a very 'painterly' artist and was always incredibly brave in the way she 'made' her paintings. They are made in a very physical manner using thick paint and vibrant colour, influenced in part by Jackson Pollock; she was a great fan, but her painting wasn't just painting about paint and automatism - she was a 'Taschist'- her painting embraced form and celebrated colour using thick impastoed paint.
As a giant of abstract art, her greatness and talent was reflected in the many successful accolades she achieved during her lifetime including being runner up for the John Moores prize and the Turner Prize - no mean feat for a female artist in the 1980s. However, she wasn't just successful in the 80s but throughout her long career and won the Gold Medal at the Indian Triennale in 1991 and was collected and exhibited by many of the major art galleries around the world.
Gillian Ayres, in my opinion, is one of, if not THE, most successful and inspiring artists of the 20th century and the fact she is female is an even greater tribute to her given the male-dominated world of that time.
I had the great privilege of curating an exhibition of her large paintings in the mid 1990s for the Atkinson Gallery and these monumental canvasses were very impressive and exemplified her style and her use of vibrant colour and thick paint. Mambo is a superb example of Gillian Ayres' painting style.