Art Appreciation Series: Giles Penny on Mary Fedden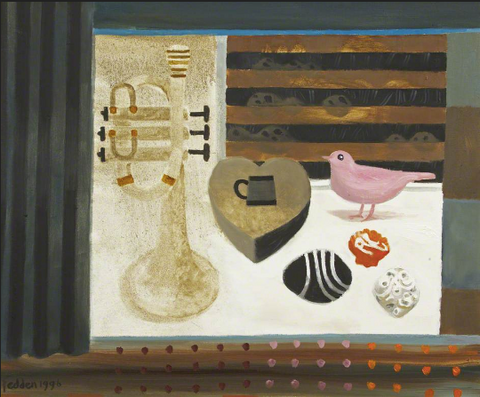 We asked our artists to share their favourite works from our Permanent Collection. Here is Academician Giles Penny's pick:
Mary Fedden (1915-2012), The Pink Bird, oil on canvas, 48.5 x 58.5cm
With all Mary's paintings there is a most natural and truthful consideration of structure, form and colour. It seems apparent that the subjects she chooses to paint are places and objects that mean a great deal to her.
When looking at The Pink Bird I am at first taken to the blue line across the top then the orange dots at the bottom, the white space in the middle then the pink bird, the painting is like a flag, the brown and black stripes reminding me of Jasper Johns.
There are only two references to depth - the first is the bird's shadow, the second is the black and grey stripes at the left side which appear to act like a curtain on a stage, thus throwing the composition backwards. And as for those dots... wow!
Although the style of Fedden's paintings are much copied there are none that come close to her honesty.