How Winning a Prize at Last Year's AOE Has Boosted Artist Karl Singporewala's Career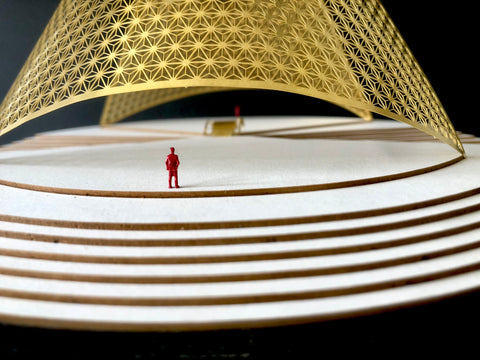 It's the final week to enter the RWA's 169th Annual Open Exhibition, with submissions closing at 9pm on Sunday 14th August. We spoke to last year's winner of the prize for a work by an artist of Global Majority or Mixed Ethnicity: Karl Singporewala.
We discussed how the AOE gave him confidence and validation in his art practice and the opportunities being a prize winner for the exhibition has bought. 
Why did you decide to enter the RWA Annual Open Exhibition last year?
The RWA Annual open has a wonderful tradition of exhibiting architectural pieces alongside fine art, which is surprisingly unique for a gallery, but very important to me and my work. I first started submitting to the RWA Annual Open in 2011, and so far have been lucky enough to have been selected for the exhibition time and time again. The Open is a mainstay on my professional calendar.
How did it feel to win the prize for a work by an artist of Global Majority or Mixed Ethnicity? What impact did winning have? How has it helped your career?
My work doesn't always fit into traditional forms of fine art, so the award helped me realise that there are people out there viewing and enjoying my work. More than anything else, it gave me the confidence (and validation) to keep going!
Can you tell me a little bit about Doppel Communion? 
Doppel Communion was a 2020 lockdown piece made from photoetched brass, card and glass. It focused on feelings of opportunity, isolation and relationships.
What advice would you give to others thinking about entering the Annual Open?
The regional transport system which the RWA has operated for many years, makes this Academy's open exhibition the most accessible in the country, as it makes it really easy to get your artwork to the gallery. The opportunity to have your work hung in such a beautiful gallery alongside some of the UKs best contemporary artists is not to be missed.
About Karl Singporewala ARB RIBA
Karl is an architect and artist with drawings and sculptural maquettes held in both public and private collections world-wide. These have been exhibited at the Saatchi Gallery, V&A digital futures, The HIX Gallery, The New York Institute of Technology, The Royal Academy of Arts, London and the RWA, Bristol. 
His artwork was included last minute in the RWA's major exhibition - Fire: Flashes to Ashes 1692-2019, which detailed the subject of fire through the works of historic masters and contemporary artist. Karl's piece was based on the recently destroyed Spire of Notre-Dame. In 2020, his brass sculpture Doppel Communion was awarded the inaugural Art Prize for work by a Global Majority or Mixed Ethnicity artist at the RWA 168th Annual Open. Subsequently, he has been shortlisted to become a Royal Academician. 
Fancy your chances at winning one of this years prizes? There are just 3 days left to apply for this years Exhibition! 
Submit your work to The 169 Annual Open Exhibition
Read this year's prize list and FAQ's